Customs officers seize 68,000 cigarettes in Wednesbury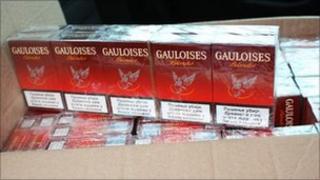 Customs officers have seized about 68,000 cigarettes during a raid on garages in the Black Country.
HM Revenue & Customs also found 4.4kg of hand rolling tobacco, 653 litres of alcohol and two cars when they raided the garages in Wednesbury on Monday.
The haul represented an estimated loss of about £19,000 in revenue for the public purse, it said.
No arrests have been made but anyone with information is asked to call HM Revenue & Customs or Crimestoppers.