Sandwell pupils invite Michael Gove to see axed project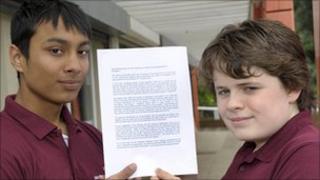 Three pupils from Sandwell have invited the education secretary to visit so he can assess the borough's need for new school buildings.
The members of Sandwell council's youth cabinet have written to Michael Gove asking him to view the nine school building projects he axed to save cash.
Sandwell was originally told none of its projects would be affected but the decision was later reversed.
Teachers and pupils took part in a protest at Westminster last month.
Pupils Mohammed Rohim, Callum Casey and Faizul Islam sent a letter to Mr Gove in which they said: "We would personally like to take you around. Often it is difficult to get a true feel of the impact that one's decisions has on the ground.
'Wasteful programme'
"Therefore, we are offering you this opportunity to meet with pupils, teachers and parents in Sandwell to hear first hand from them how they feel about this decision."
The invitation was sent a few days after Sandwell Conservative councillor Elaine Costigan defected to Labour over cuts to the government's schools building programme.
She said the community had been treated with "utter contempt" and she was "ashamed to be a Conservative".
A spokesman for the Department for Education said: "We understand people's disappointment but the Building Schools for the Future (BSF) programme was wasteful, needlessly bureaucratic and seriously behind schedule. It would have been inexcusable to have continued with the programme.
"Ministers have been clear that the end of BSF is not the end of school rebuilding - that is why the government has launched a comprehensive review of all capital spending in schools so that investment is focused on areas in the greatest need, those schools in most disrepair and to deal with the urgent demand for primary school places from rising birth rates - a problem we cannot afford to ignore."
The spokesman said the letter had not been received yet and a reply would be sent in due course.