Wolverhampton 'lacks workers with qualifications'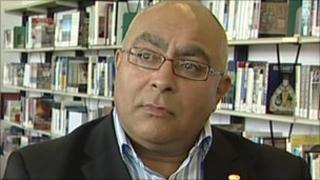 Wolverhampton has the highest proportion in England of working-age people with no qualifications, according to BBC-commissioned research.
It also has the second highest claimant rate in England and the highest in the West Midlands, ahead of Birmingham, the Experian study suggests.
The government will announce its spending review on 20 October.
The BBC-commissioned research to assess how resilient each of the 324 English council regions are to economic shocks.
The research looked at lots of different aspects and divided them into categories - business, community, people and place.
Bhanu Dhir, vice president at City of Wolverhampton College, said young people needed to be inspired to achieve qualifications.
"I think it's very serious in particular in certain parts of Wolverhampton where there is a tradition or maybe three generations of families that have not been in employment," he said.
"So, why would a young person feel inspired to go to a college or school to pick up a qualification when they can see all around them people having a completely different lifestyle?"
Lord Digby Jones also reiterated the importance of education, saying it was vital to have a well-educated workforce.
Birmingham has the least number of vulnerable sectors in the BBC West Midlands region. The sectors include areas like engineering and construction.
But a low proportion of the city's workforce is self employed and there are a high number of companies going out of business, the research suggests.
Life expectancy in Sandwell is ranked low at 320th out of 324 for men and 299th for women.
The area is ranked fifth for the rate of people claiming benefits.
Sandwell Council leader Darren Cooper said important regeneration work had gone on in some areas and he was trying to get more money from the coalition government to complete work in the Windmill Lane area.
Some land there was designated to be a new medical centre after a pub that formerly occupied the land was closed down but funding has dried up.
"One thing about Smethwick is we are proud people and we're resilient people and we're not going to to sit back and accept all of this.
"Whatever money does or potentially is available from the coalition government, I'm going to snap it up and I think I've got justifiable reasons to do that."
BBC WM is hosting a debate and phone-in about the research from 0900 BST on Friday.