Wolverhampton care home fight woman dies, aged 107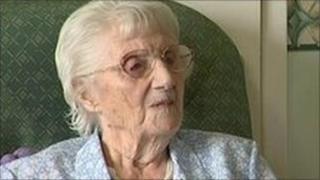 A 107-year-old woman who lost a high-profile battle to stay in a Wolverhampton care home has died.
Louisa Watts, who fought a legal battle with Wolverhampton City Council over the closure of Underhill House, died on Friday, her family said.
Mrs Watts moved to a different home after the Court of Appeal ruled in the council's favour in October.
The council had argued the 40-year-old home needed a £2m investment to make it meet modern care standards.
At one stage, the-then prime minister Gordon Brown backed the campaign by Mrs Watts, her family and other residents.
'Working together'
Mrs Watts, a widow who had worked as a hospital cleaner, said at the time she was happy at Underhill House in Bushbury, where she lived for four years, and would be upset to leave.
The campaigners had taken out an injunction against the city council to prevent the home's closure.
But this was overturned by the Court of Appeal on 7 October.
A businessman's offer of about £80,000 towards running costs was then rejected by the council, which said it was working with the remaining nine residents to help them make alternative suitable arrangements.
In November, Mr Brown said in the House of Commons: "I hope the council will reconsider and accept the very generous offer that has been made to them to keep Louisa Watts and her friends in her home for another year."