'Mocking' killers of three-year-old boy jailed for life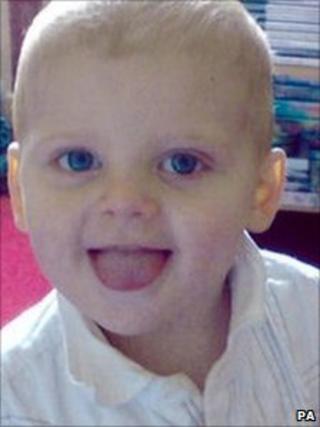 A couple who murdered a three-year-old boy in their care, inflicting more than 70 injuries on him, have been jailed for life.
Ryan Lovell-Hancox died on 24 December 2008 in hospital from a brain injury he received at the West Midlands home of Christopher Taylor and Kayley Boleyn.
Taylor, 25, and Boleyn, 19, of Bilston, were told they would serve a minimum of 15 and 13 years respectively.
The judge said the couple had mocked the child when he cried out for help.
The defendants blamed each other for Ryan's injuries.
Ryan's mother, Amy Hancox, 21, who knew nothing of the abuse, had told the court she had given Ryan to the pair to look after as she "was not coping".
The court heard that two days before Ryan's death, Miss Hancox tried to break down the door of Boleyn's home to see her son, but Boleyn refused to let her in as Ryan was covered in bruises.
Boleyn and Taylor were convicted of murder and child cruelty at Wolverhampton Crown Court in March.
The couple had been looking after Ryan for almost a month at their flat in Slim Avenue, Bilston.
The four-week criminal trial heard Miss Hancox paid the pair about £20 a week to look after Ryan while she decorated her home.
During the trial she told the court: "My crime was naivety. Kayley is related to my family. She never showed any signs of nastiness.
"All I want is to see these two locked up for a lifetime and most of all I want and need a chance to rebuild my life and put my son to rest after this long period of time."
Jailing the pair, Mrs Justice Macur said they had made Ryan's life "hell" and said they were incapable of looking after themselves, let alone a child.
"There were bruises to his skull, which had been inflicted by up to 10 individual blows.
"There were marks on his legs and grazes to his face."
He had also been grabbed forcibly around the jaw, slapped and punched, she said.
She added the couple were unable to keep their own lives under control without smoking cannabis and drinking alcohol and they took their petty grievances out on the boy.
West Midlands Police has said no action will be taken against Miss Hancox for leaving Ryan in Taylor and Boleyn's care.
Det Con Keith Langdon, speaking on behalf of the family, said Taylor and Boleyn had deprived Ryan of his life, and therefore should be deprived of their freedom.
A statement released by the family said: "We think about Ryan every day and we realise that nothing will bring him back.
"We hope that Christopher Taylor and Kayley Boleyn will think about what they have done for the rest of their lives in the same way we think about losing him."
Wolverhampton City Council is currently awaiting the findings of a serious case review into Ryan's death. The three-year-old had not been subject to a child protection plan or been identified as "at risk".
At the time of the trial, Roy Lockwood, director for children and young people's services for Wolverhampton City Council, said: "Nonetheless, all the agencies in the city that have a responsibility to protect children are determined to learn what lessons there are to be learned to ensure no child ever dies in such circumstances in our city again."