Sandwell pupils at schools buildings rally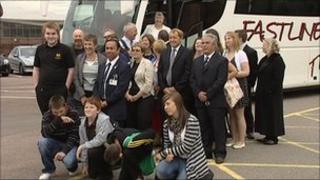 Pupils and teachers from schools in Sandwell have joined a meeting in Westminster, London, over cuts to the school rebuilding programme.
The Save Our Schools lobby urged ministers to reconsider the move which led to the halting of 735 school projects.
In Sandwell, nine schools were told they would still get their repairs, only to later find out they will not.
Council leader Darren Cooper said people in Sandwell were very upset.
About 24 people set off from Sandwell to join the rally.
Mr Cooper, the council's Labour leader, said young people, families and teachers had been treated in a "disgraceful way".
"This issue has really united our community and people are very upset," he said.
Funding lost
Joanne Hipkins, a teacher at Meadow Sports College which caters for children with severe learning and physical difficulties, said her school had lost £2m funding due to the scheme being cancelled.
"We are a new build but we need money to re-adapt the school for the students who are now coming through," she said.
She said she joined the rally to highlight that schools are being badly affected.
The government should look at each school on an individual basis, she said.
Prime Minister David Cameron, has described the cancelled programme as "hopeless" and "not properly funded".
He said school buildings in a poor state would be improved "over time".
The Education Secretary, Michael Gove, announced two weeks ago that the Building Schools for the Future programme, which aimed to rebuild all of England's schools by 2023, was being scrapped.
The announcement was criticised as being badly handled with repeated errors on published lists of projects affected and Mr Gove later apologised in the House of Commons.