World's largest watercolour revealed after £50k conservation appeal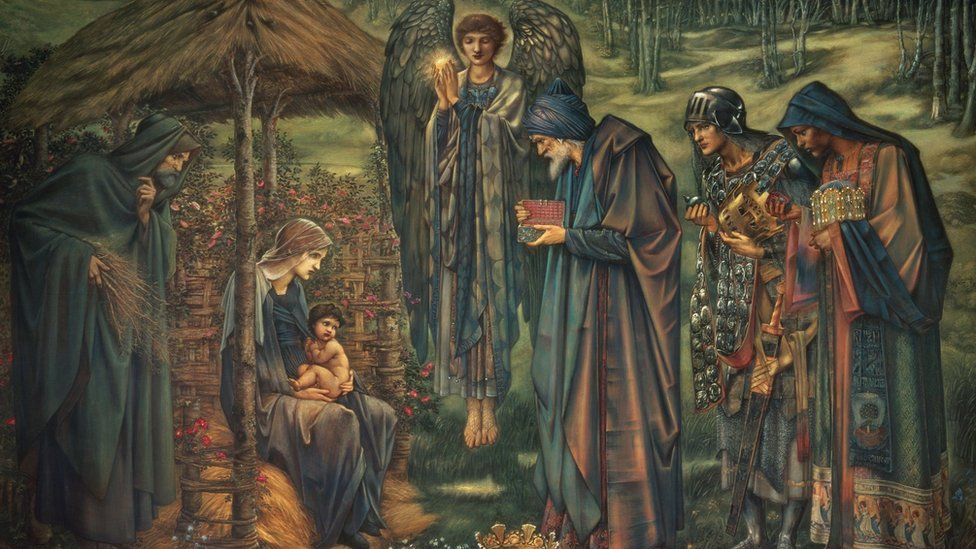 A painting believed to be the world's largest watercolour has been "protected for future generations" after an ambitious conservation project.
Edward Burne-Jones's The Star of Bethlehem has been at Birmingham Museum and Art Gallery for 130 years.
However, it had not been moved in decades due to its fragile condition.
About £50,000 was raised through an appeal to allow it to be reglazed and conserved. It is set to go on display when the museum fully reopens in 2024.
Birmingham Museum and Art Gallery holds one of the world's foremost collections of Pre-Raphaelite art, including thousands of works by the likes of Dante Gabriel Rossetti, John Everett Millais, William Holman Hunt, Ford Maddox Brown and dozens by Burne-Jones.
Measuring approximately 8ft by 12ft (2.4m by 3.6m), The Star of Bethlehem had not been able to be inspected or redisplayed due to the risk of the fragile Victorian glazing shattering and causing damage.
The Star of Bethlehem has now been reglazed as part of the conservation project, which the museum said had revealed the richness of Burne-Jones's colours.
Upon inspection it was found that the painting sits in a close-fitting inner frame, which means experts have not been able to see the back of the painting, as doing so would require the dismantling of the frame, which risks damaging the painting.
Experts, however, were able to see other details of the painting, including Burne-Jones's signature in the bottom right corner, the first time it had been seen for 130 years.
Victoria Osborne, Curator of Fine Art at the museum, thanked the donors and fundraisers who supported the appeal.
"The new low-reflect glazing will protect The Star of Bethlehem for the future and will make it easier for visitors to see and enjoy the picture in all its rich colour and detail. We're excited to reveal it again when the museum fully reopens," she said.
The museum and art gallery is currently only partially open while electrical works are completed across the building.
Related Internet Links
The BBC is not responsible for the content of external sites.