Balwinder Safri: 'Miracle' as Birmingham bhangra star recovers after coma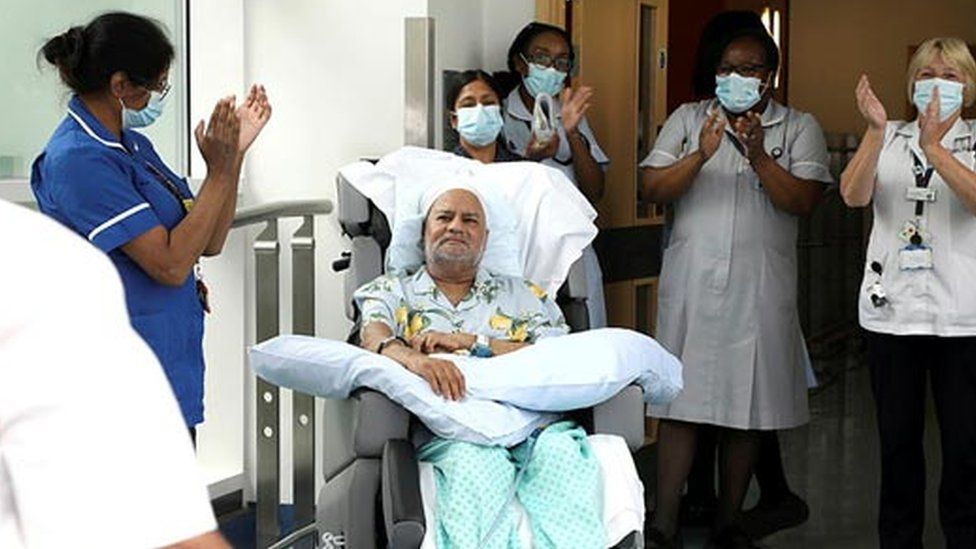 A well-known bhangra artist has made a "miracle" recovery after being in a coma following heart surgery.
The 63-year-old, from Birmingham, has now been discharged after spending 86 days in New Cross hospital in Wolverhampton.
"It's a miracle," said Nikki Davitt, Mr Safri's wife of 17 years.
She added: "There were so many times when we thought 'this is it'."
"I remember a call from critical care one night and they asked me to come to the hospital as soon as I could as they didn't think Safri was going to make it through the night, but he always pulled through.
"He is incredible - I always knew he was strong."
The Punjab-born artist has been part of the UK bhangra scene since 1980, forming the Safri Boyz Band in 1990.
He spent 27 days in critical care following the operation in April.
Recalling the moment she heard her husband say his first words, Ms Davitt, added: "I will never ever forget hearing Safri say 'yes I can hear you' - I was overcome with emotion."
As he left the ward, he was treated to a special music and dhol drum serenade by friend and fellow The Safri Boyz member, Bhupinder Kullar - better known as Tubsy.
Mr Safri will now continue his recovery journey at a specialist rehabilitation centre, which will help with his mobility and his speech and language.
Related Internet Links
The BBC is not responsible for the content of external sites.