Spitfire pilot's caterpillar brooch sells for more than £2,000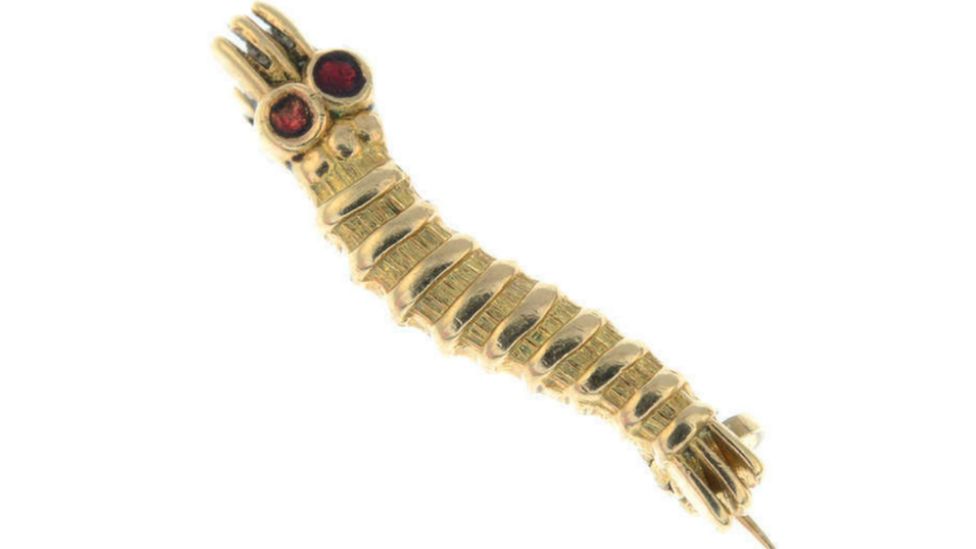 A Spitfire pilot's caterpillar brooch has sold for more than £2,000 at auction.
It belonged to Sgt William Henry Tuckwell Farmer, an RAF pilot based in Cornwall during World War Two.
He was shot down over France in 1942 and the brooches were awarded to pilots who successfully parachuted out of their aircraft.
Fellows Auctioneers in Birmingham said each "tells a story that we would hope never needs repeating".
Sgt Farmer flew with the 234 Squadron and in July 1942 he had to jump out of his Spitfire when it was hit by machine gun fire over Landerneau.
He was taken as a prisoner of war to Stalag Lamsdorf shortly after.
The brooches were awarded by the Caterpillar Club, which was formed in 1922 by parachute-makers Irvin.
The caterpillar was chosen as an emblem as it represented the silk worm, which can gently lower itself to earth by silky threads.
Many parachutes in the early days of aviation were also made from silk.
The 9ct gold brooch was expected to sell for between £400 and £600, but attracted "multiple bids" from online bidding platforms and a telephone bidder, the auctioneers said.
The telephone bidder eventually secured the brooch for £2,169.20, including fees.
Ben Randall, senior specialist and catalogue manager at Fellows, said: "Much like an unassuming medal to the untrained eye, these tiny badges are a charming indicator of heroism and survival under immensely trying circumstances.
"Sometimes it is the material value of a piece that explains its value. On other occasions it is the provenance, the history that you can hold in your hand."