Kemarni Watson Darby: Mum and partner jailed after boy's murder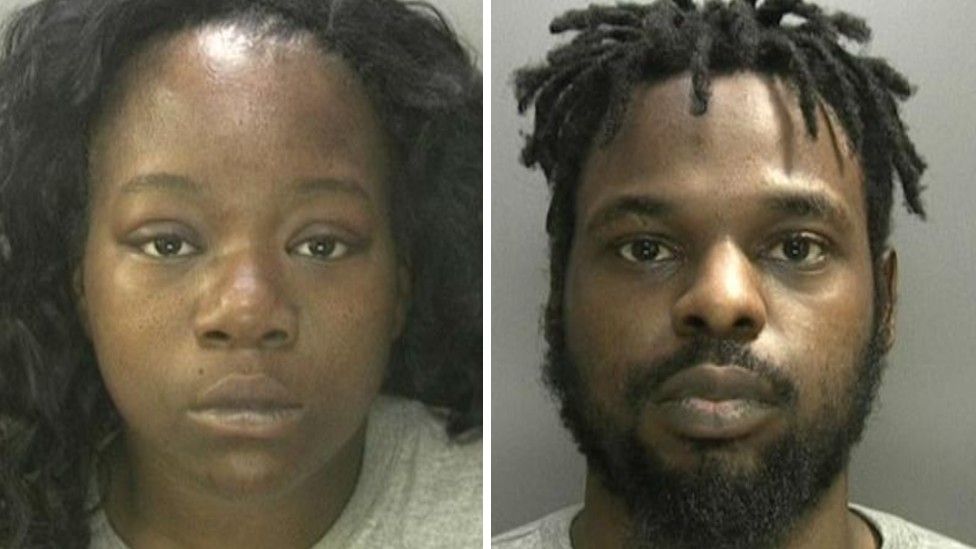 A man who murdered his partner's three-year-old son after inflicting more than 20 rib fractures over weeks of beatings has been jailed for at least 24 years.
Jurors heard Nathaniel Pope caused injuries to Kemarni Watson Darby comparable to a car crash.
Along with Pope's life term, Kemarni's mother Alicia Watson received 11 years at Birmingham Crown Court for causing or allowing Kemarni's death.
Mrs Justice Tipples said he had died after "a severe and sustained assault".
Warning - this article contains distressing content.
The judge told 32-year-old Pope it would "have caused extreme distress and pain and that would have been obvious to you".
"Kemarni was not your son and he did not mean anything to you. You saw him as a nuisance who got in the way of your relationship," she said.
The judge told the former warehouse worker she was sure he had been under the influence of cannabis when he killed the three-year-old in June 2018.
Pope has previous convictions for burglary and possession of heroin with intent to supply. In 2011 he was jailed for four months for an attack on a young mother on a London bus.
The judge told Watson, 31, she had known Pope had been injuring Kemarni with punches and kicks and had done nothing to stop it; and she had also "regularly beat him hard" with her hands.
During the trial, it emerged Watson had bought cannabis and spent money on driving lessons, as Kemarni lost his nursery place due to lack of funds.
Mrs Justice Tipples said it had been "a particularly distressing and tragic case".
Pathologists found four rib fractures on Kemarni which they believe were caused up to four weeks before he was killed at his home in Beaconview Road, West Bromwich.
The trial was told Kemarni would already have been in pain from serious injuries when, hours before he was beaten to death, he was taken by Watson to a walk-in health centre, where he was given medicine for a suspected stomach bug.
Kemarni's father Darren Darby told the start of the sentencing hearing on Monday Pope and Watson had left him suffering "a true life sentence".
In a statement about Kemarni, he said: "He had the potential to be so much. I will not get to be involved in the key moments of his life."
Pope, from Wolverhampton, and Watson, of Handsworth, Birmingham, were also found guilty of child cruelty charges.
Speaking after the pair were jailed, Giovanni D'Alessandro, of the Crown Prosecution Service, said: "This was a deeply disturbing case of two people who were supposed to be protecting a defenceless three-year-old boy but instead subjected him to cruelty and repeated bouts of violence.
"Rather than take responsibility for their actions, both Watson and Pope repeatedly lied and sought only to blame one another for all of these crimes."
Related Internet Links
The BBC is not responsible for the content of external sites.