West Midlands Police force 'protected rogue officer'
By Vanessa Pearce
BBC News, West Midlands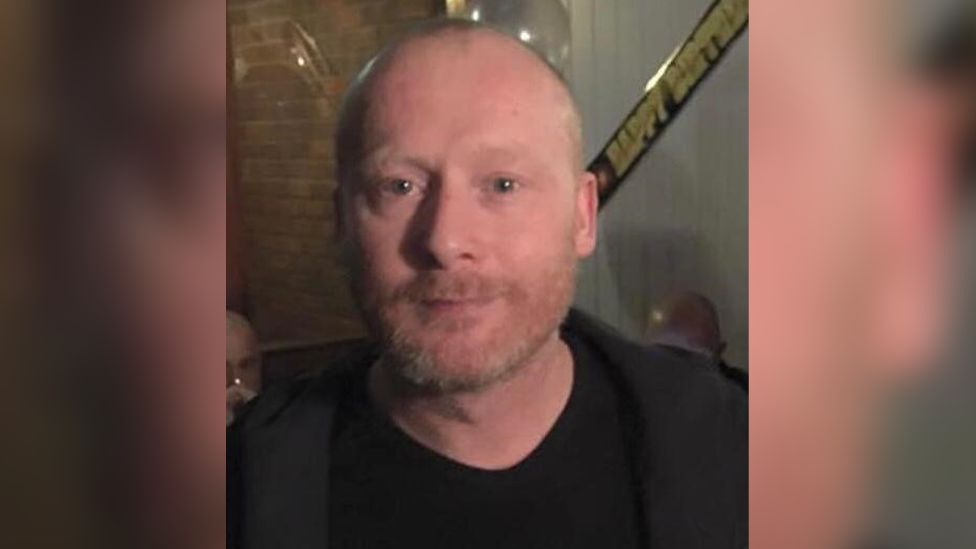 A police officer sacked for gross misconduct had previously been disciplined for hitting a football fan with his baton, leading to a six-figure payout, the BBC has discovered.
West Midlands Det Con Paul Knowles was dismissed last week after jeopardising a murder trial.
Fan Bryan Allden, who was badly injured by the same officer in 2015, said the sanction was "long overdue".
West Midlands Police has been approached for a comment.
The tribunal last week heard Det Con Knowles, who had been with the force for 19 years, had shared information about the identification of a murder suspect on his personal phone.
Although the outcome of the trial was not affected, the panel found allegations of matters of honesty and integrity breaches amounted to gross misconduct, leading to his sacking.
Mr Allden, who suffered a broken hand in the blow outside Villa Park football ground in 2015, accused the force of protecting the "rogue officer" and allowing him to return to work afterwards.
The Birmingham City fan was left needing five operations on his badly injured hand, losing his grip and his job as a specialist panel beater.
Iain Gould, a solicitor who specialises in claims against the police and who represented Mr Allden, said rather than dismissing then-PC Knowles after the "brutal attack", the force had "simply moved him to a 'desk job' as a detective constable."
He said the lack of sanctions had given the officer "the opportunity to further breach the special trust that had been invested in him".
Instead, the officer was told to carry out personal safety training.
The unprovoked strike before a League Cup match against Aston Villa was captured on camera.
"I thought I'd film the atmosphere and put it on my Facebook page later," said Mr Allden.
"This officer just hit me for nothing, absolutely no reason whatsoever - I knew I was in a mess, there was blood everywhere and I couldn't feel my fingers.
"The mental injuries were worse than the actual physical injuries, it sent me in a bad way."
An investigation by the Independent Police Complaints Commission, now the IOPC, concluded the officer had a case to answer for misconduct.
Sanctioning him after the 2016 investigation West Midlands Police concluded he should undergo a first aid course and further training.
Det Ch Insp Brian Carmichael of the force described the officer's use of force as justified, but executed recklessly.
"As such I have decided that the officer should retrain in the use of his personal safety equipment including baton strikes and general use of force," he added.
Mr Allden described the officer's penalty as "absolutely ridiculous".
"I think it stinks," said Mr Allden, "This guy was a rogue and a wrong 'un.
"I had a good job, I was living a good life, and all of a sudden I went from that to nothing."
Mr Gould said the action against the officer was "no more than a slap on the wrist in disciplinary terms, whereas his client lost his career as a vehicle mechanic".
A compensation case brought by Mr Allden, claiming he was the victim of excessive force, was settled for the six-figure sum a month before the case was due to go to trial in 2020.
It was also accompanied by an apology.
"The whole case must have cost them nearly a million pounds," Mr Allden claimed.
"I had my compensation, my solicitor's fees were on top of that, my operations were all done privately by the leading hand surgeon in the country... plus their own fees of course."
He claimed that at the time of the incident the force had neglected to take the case seriously, and had protected the officer.
"He didn't give two hoots when he hit me, his colleagues didn't give two hoots when he hit me.
"There was all the bodycam footage on the night... there was my video, there were witnesses, but all his colleagues saw nothing, nobody saw nothing, it was a closed book.
"Which just goes to add to me thinking there's corruption within the force - we'll cover up for you."
He added when he had heard the officer had been sacked last week "part of me was quite sad, because I'd put it all behind me."
"But then... I thought 'great', I really thought 'brilliant'.
"The officer had been "protected, protected, protected, and finally he's been found to be a rogue police officer and he's had his just deserts," Mr Allden said.
His lawyer Mr Gould added: "Too many police officers get too many second chances - PC Knowles was clearly not fit to be an officer at all."