Spaghetti Junction at 50: What lies beneath?
By John Bray
BBC News, West Midlands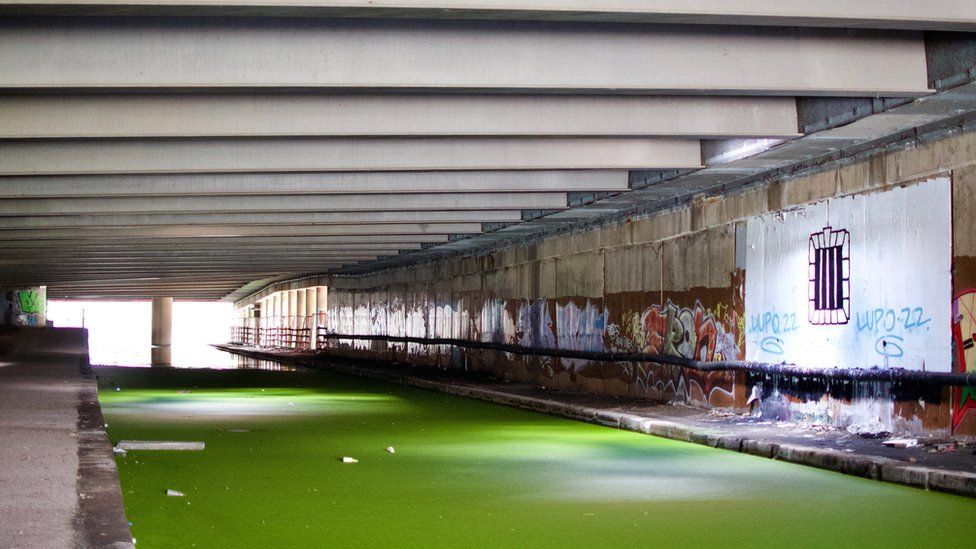 The heavy sound of vehicles trundling overhead is impossible to ignore from beneath one of the UK's best-known concrete structures, which turns 50 on Tuesday.
Thousands of motorists travel through the Gravelly Hill Interchange on the outskirts of Birmingham at every hour of every day.
The vast majority of drivers on the M6 motorway know it simply as Spaghetti Junction - but how many know what lies underneath it?
There's a perhaps surprising amount of greenery, a labyrinth of heavily-painted subways and pathways, two railway lines, three canals and two rivers.
Spaghetti Junction was given its name by newspaper reporter Roy Smith, who said that from the sky it looked like spaghetti on a plate.
Construction of Spaghetti Junction took some four years to complete at a cost of £10m.
The site covers 30 acres, serves 18 routes, and the pillars carrying Spaghetti Junction over the canal network had to be carefully placed to allow a horse-drawn narrow boat to pass underneath without fouling its towrope.
Spaghetti Junction is split across five different levels, and, according to National Highways, is designed to last 120 years.
And if you wanted to drive along every road at Gravelly Hill Interchange, you would need to travel about 73 miles.