Spitfire pilot's caterpillar brooch to be sold at auction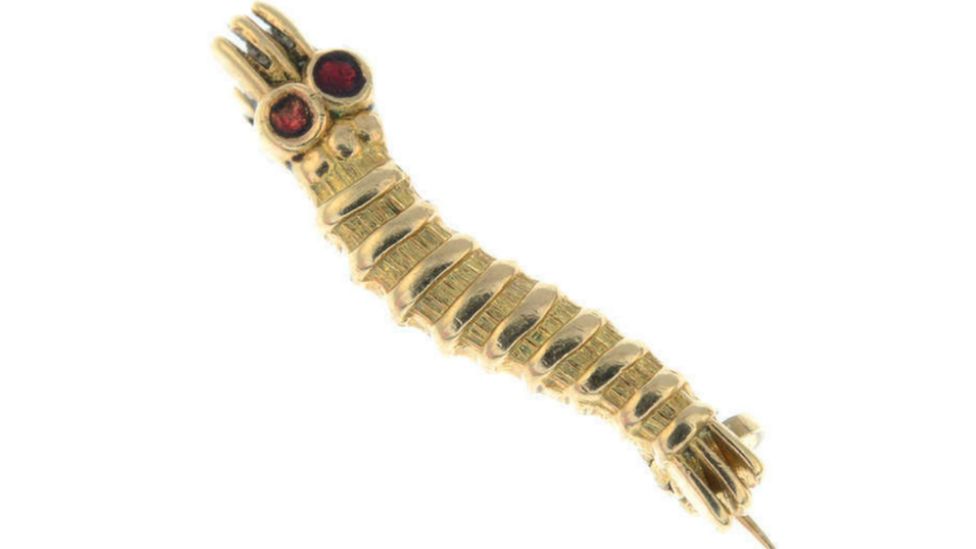 A caterpillar brooch, awarded to a British airman who successfully parachuted out of his Spitfire, could raise up to £600 at auction.
It belonged to Sgt William Henry Tuckwell Farmer, an RAF pilot based in Cornwall with the 234 Squadron during World War Two.
His aircraft went down over Guisseny, in France, on 23 July 1942.
The brooch was given by the Caterpillar Club to pilots who saved their own life by parachuting from an aircraft.
The Caterpillar Club was formed in 1922 by parachute-makers Irvin, and the caterpillar was chosen as it represented the silk worm, which can gently lower itself to earth by silky threads.
Many parachutes in the early days of aviation were also made from silk.
After his plane went down, Sgt Farmer was captured and taken to the Stalag Lamsdorf prisoner of war camp.
The 9ct gold brooch, is engraved with the words Sgt. W.H.T Farmer and is 1.9cm (0.75in) long, weighing 1g (0.035oz).
The auctioneers said it was put up for auction by a private individual and believed it would sell for between £400 and £600.