Billy Sutton: Birmingham street seller who took on Miami drug cartels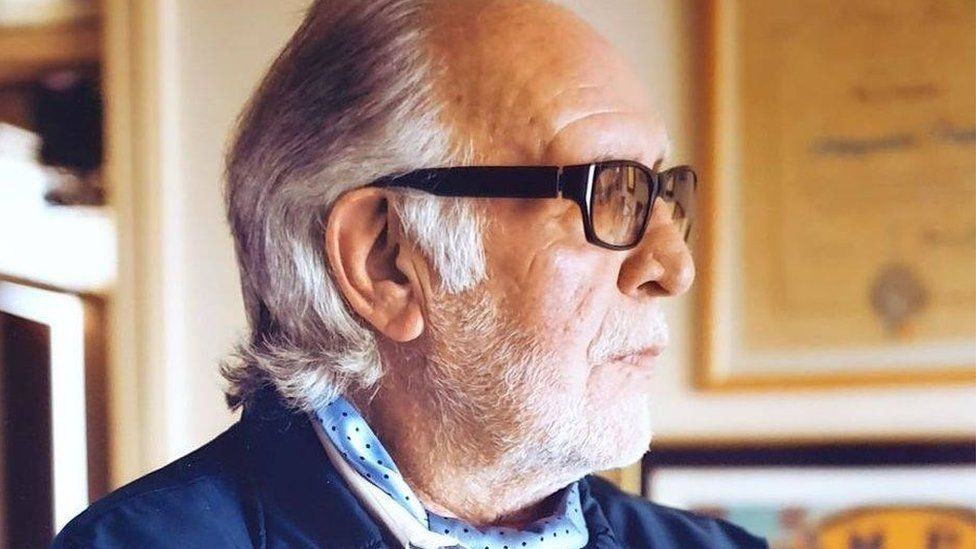 The honorary title of colonel was bestowed upon Billy "Sutty" Sutton by the City of Miami Police at a ceremony in 1989.
The award was to thank the Birmingham grandson of a notorious Peaky Blinder for helping local police fight Colombian drug cartels.
A reformed alcoholic, he worked with officers in Florida over a decade, earning him the freedom of the city.
His extraordinary life story has now been made into a film.
The Legend Plays On depicts the story of how a near-death experience from alcohol abuse in a Birmingham warehouse helped turn around the life of Mr Sutton.
"I was at the gates of hell, I wanted to live and I wanted to die," he told the BBC at the Birmingham premiere of his biopic.
Mr Sutton was well known in the city while growing up. His grandfather was infamous gangster Austin Kelly, said his friend, historian Prof Carl Chinn.
He described Austin as a "backstreet thug and petty criminal", not the "glamorous gangsters like we see in the series".
Billy's mother Mary worked at the Bullring Market as a flower seller, and while he sold them for a while, he eventually travelled the country as an illegal street trader.
"He sold nylons from a suitcase", Prof Chinn said, describing his early life as one of a "street-wise kid and play-up merchant".
Always able to pull a crowd, he was renowned for his heavy drinking and penchant for stripping naked, he added.
After one particularly heavy drinking session back in Birmingham, Mr Sutton disappeared for three days.
He credits his friend, the former BBC Midlands Today presenter, Alan Towers with saving his life after he tracked him down, discovering him unconscious in a lock-up.
"Without Towers finding me in that warehouse and giving me a reality check and getting me to AA meetings I wouldn't be standing here today," he said.
After finally turning away from drink, he decided to help community causes instead and ended up on the boards of several crime prevention panels and sporting bodies in Birmingham.
"Alcohol is an obsession," explained Prof Chinn, "when that had gone Billy needed something else to focus on."
The police in Birmingham at the time had "lost control" of areas including Handsworth following violent riots, said Mr Sutton.
"West Midlands Police brought me in as a street-wise Henry Kissinger," he explained.
After being involved in non-league football for years he said he hit upon the idea of setting up a series of "little leagues" resulting in more than 25 teams across the city.
"We got hundreds of kids involved," he said. "At the time it was the biggest community-led operation in Europe and it's one of the greatest achievements of my life."
But not satisfied with his achievements in Birmingham, Mr Sutton said he felt the need to look wider afield for a new challenge.
During a chance meeting with a friend, who worked as a US law enforcer, he learned about the growing drugs problem in the US - and he believed it could soon blight the streets of his hometown.
"When I saw the implications of crack [cocaine], I knew the Cubans and the Colombians would be turning their attention to Europe, because they could get a better price," he said.
He told his friend he needed to the USA and "get that information from the Miami police to bring back to my country".
Over the next decade he made more than 50 trips to Miami, meeting officers and speaking publicly in support of the police who were "tackling Colombian and Cuban gangsters" said Prof Chinn.
But how did a civilian from Birmingham end up being embedded within a police force, experiencing first-hand their fight with drugs?
"When Billy first emerged, they just thought 'who is this English guy?'" said Prof Chinn.
He had initially become involved in the police department's boxing programme, set up in poorer districts as a deterrent from the growing gang problem.
"And it's from there that Billy moved into becoming good friends with officers and others, including Chief Clarence Dixon - the first black police chief of Miami," Prof Chinn said.
"It was through his personal bond that he developed with all these men - for them Billy is a legendary character."
The trust in Mr Sutton's abilities grew to such an extent he would be allowed to ride with a special task force that had been set up to take on the drugs gangs.
"These jump-out boys were the real Miami Vice - they were very brave men," said Prof Chinn.
"They regard him as someone who not only had a belief and a desire to help youngsters avoid gangsterism, but as a brave man himself who got involved with them on the street."
Over the next 10 years Mr Sutton was given dozens of awards for his work with the force, including three for bravery. His work with them had prompted death threats and attacks, with his car being blown up.
"It's not a fantasy, it is not exaggeration to say that Billy as a streetwise kid from the back streets of Brum went to Miami and became the most highly decorated civilian in Miami Police Department's history."
Luke Walker, the film's producer who also plays the lead role, said he had been left "flabbergasted" when first hearing about Mr Sutton's story.
"I didn't believe it at first," he said, "he's the most genuine and caring person I've ever met - I really really hope we've done him justice."
At the film's Birmingham premiere video tributes were played from friends including Joe Rimondi.
The retired Miami Police officer said Mr Sutton had been "adopted" by the force "and he fit right into our family".
"I wish we could clone Billy Sutton and put them in all communities."
Actor and former boxing champion Gary Stretch described his friend of over 25 years as selfless saying "the biggest difference between Billy and me is - everything Billy has done is for other people, which is the most remarkable thing."
"He's been a great mentor to me, a great friend - like a second father."
Former England and Manchester United captain Bryan Robson said his "unbelievable friend had never changed being on a rollercoaster ride".
Mr Sutton described the film as "remarkable".
"It captures the bad parts of my life and coming back a winner," he said.
"All I've tried to achieve all my life is give inspiration - not only to the alcoholics but the suffering families who go through as much.
Falselight Productions says it is hoping to show the film at festivals ahead of a wider release.
Related Internet Links
The BBC is not responsible for the content of external sites.