Birmingham Edgbaston ban for 'disgraceful' cricket pitch invaders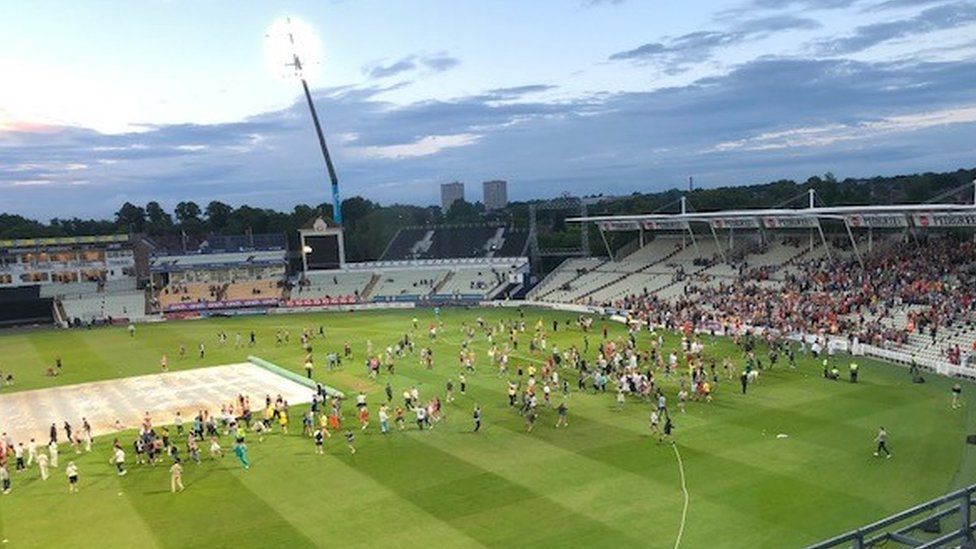 Students have been blamed for a pitch-invasion that saw hundreds of people storm the Edgbaston cricket ground.
They included a number in fancy dress in what looked a party atmosphere after the Birmingham Bears' defeat to Derbyshire Falcons on Thursday evening.
Strict government restrictions regulate the admission of fans at matches, with social distancing measures in place.
Warwickshire County Cricket Club said it would be reviewing the incident and would ban those responsible for life.
It follows complaints from Durham fans about the behaviour of some students at their T20 match against Northamptonshire Steelbacks a day earlier - particularly regarding social distancing.
Warwickshire CC Chief Executive Stuart Cain described the scenes in Birmingham as "heart-breaking" and apologised to "the majority of spectators who respected social distancing measures".
He said the behaviour "of a small number of students after the match finished was disgraceful" and that a third-party promoter working with three universities had been made aware of social distancing requirements as well as all ticket-holders.
"They [social distancing measures] were then enforced as best as possible on the evening by stewards who worked incredibly hard to manage their behaviour," Mr Cain said.
"Messages were repeatedly broadcast over the PA system and screens, and pitch invaders ejected. They will receive a life ban if identified."
Mr Cain also said the club would not work again with Invades, the company which arranged the student-promotion.
In an online advert, the firm promised students "free flowing pints" and a "Summer Day Party from the gods".
Invades said it had worked closely with Warwickshire ahead of the game and that "the actions and behaviour at Edgbaston last night were totally unacceptable" .
It backed the club's investigation and bans for the spectators involved.
It added it had welcomed "over 80,000 young people to 30 stadiums in three countries" and never experienced trouble like this before.
Invades added it believed "introducing the next generation of fans is vital for the future of sport" and it would continue to work with governing bodies and partners to "deliver safe sporting experiences that bring happiness and joy to thousands of young people".
The cricket club said the students had come from the University of Warwick, the University of Birmingham and Harper Adams University.
Universities investigating
The University of Warwick said it was "actively investigating whether any of our students were involved".
Harper Adams University said: "We do not condone the behaviour reported and investigations have already begun to identify whether any of our students were involved. We will then be instigating our full disciplinary processes where necessary."
It also said neither it, nor the students' union had been involved in the arrangements.
The University of Birmingham said: "There is no indication at present that those involved were University of Birmingham students" but added if there was "evidence of misconduct we will investigate and appropriate sanctions will be applied".
It also said: "Incidents of this nature are unacceptable at any time and could damage the case to have more crowds at sporting events as we ease out of lockdown."
Edgbaston successfully hosted about 60,000 spectators during the Test match between England and New Zealand and is due to host a one day international match against Pakistan on 13 July.
Fans attending the Test match were all required to take a lateral flow test and prove evidence of a negative result before entering the stadium.
However, the same requirement was not in place for the Vitality Blast game on Thursday.
It operated under the standard national guidelines that are in place for venues, requiring them to operate with 25% capacity.
The Department for Digital, Culture, Media and Sport said the incident was a matter for Warwickshire County Cricket Club and the England and Wales Cricket Board.
Mike Taylor, BBC Radio WM
It wasn't in a threatening way in so far as they were hounding the players or anything like that.
Normally it would be frowned upon, it would be a problem, and people coming on to the field would be ejected. But in the current climate, with limits on crowds and distancing, it is more of a problem.
I imagine the club will be concerned about that for obvious reasons and probably other organisations too that are looking to hold Test events will be concerned because in the end you can have stewards and all sorts of things, but you are looking for a certain level of personal responsibility.
Related Internet Links
The BBC is not responsible for the content of external sites.