Infant mortality in Birmingham 'not openly discussed'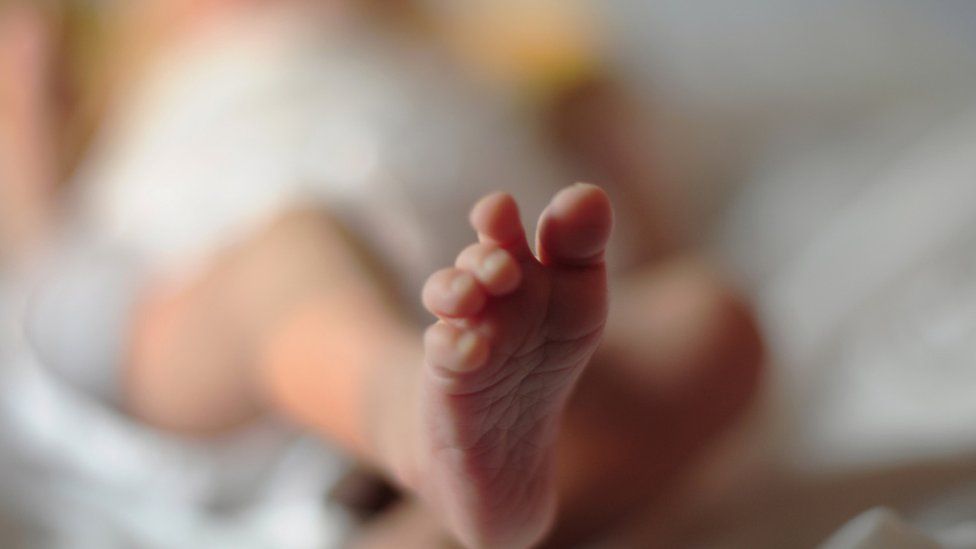 Infant mortality is not "openly discussed" among some communities, a charity worker in Birmingham said, as the city attempts to tackle a long-standing problem.
For the last decade, Birmingham has had one of the highest rates of infant mortality in England.
The city council has set up a taskforce in a bid to halve the number of deaths.
It heard rates were highest in deprived areas and among Black, Pakistani, and Bangladeshi heritage families.
Shabana Qureshi is the women wellbeing manager for the Ashiana Community Project, a charity which works to improve quality of life for those living in Sparkbrook.
Figures from the 2011 census show 87% of its population identified as being from an ethnic group other than White British, with the largest ethnic group being Pakistani.
Many of women she works with, she said "don't know how to ask the right questions" and so are "not informed" about issues.
Many people in the communities they work with, she said, have low education levels and are more likely to suffer with maternity health issues, but find it difficult to access services.
"[Infant mortality] is not something that is discussed openly," she said.
"A lot of women live within extended families and are sometimes not aware of the risks, they live with these conditions and health inequalities."
She said any services which hope to tackle these problems need to involve communities, and be designed to be relatable, culturally sensitive and maintain trust.
"Their experiences are not highlighted, no one is an advocate for them," she said.
Seven babies in 1,000 die in the city before they reach their first birthday, according to 2017-2019 figures.
That compares with 3.9 deaths across England.
Only Sandwell and Stoke-on-Trent, also in the West Midlands, have higher rates.
Birmingham's high rate of infant mortality has also barely changed since 2013.
In that year, the situation prompted Ofsted Chief Inspector Sir Michael Wilshaw to compare infant mortality rates in the city to those in Latvia and Chile.
Councillor Rob Pocock, chair of the Health and Social Care Overview and Scrutiny Committee, said: "That's two babies a week.
"It is a tragedy in the city and we have got to do something about it."
It was in part prompted to explore evidence suggesting that consanguinity, or babies born to couples who are related as second cousins or closer, was a factor in congenital abnormality, and consequently in increasing the risks of infant mortality.
But Dr Jo Garstang, a consultant community paediatrician in Birmingham and designated doctor for child death, said it was "a more minor issue".
"The biggest problem for Birmingham is poverty and social deprivation," she said.
"That accounts for the majority of the infant deaths.
"Premature birth is the leading cause of infant death and this occurs across all ethnic groups but particularly in association with social deprivation.
"If you've got poverty, chronic stress, poor housing, poor nutrition or obesity, low education levels and poor management of underlying health conditions, you're much more likely to have a premature baby."
The council has pledged to cut infant mortality rates by half in the next four years.
Councillor Paulette Hamilton, cabinet member for health and social care, said she was "committed" to reversing the situation.
"More work is also needed with women from ethnic minorities in relation to drug and substance misuse and obesity while maintaining good mental health, physical health and using stress reduction strategies before becoming pregnant to increase their chances of giving birth to a healthy baby," she said
Clea Harmer, chief executive at stillbirth and neonatal death charity Sands, said the rates in Birmingham were "worrying and clearly distressing for the families of the babies, NHS staff and the local community".
"A whole range of complex risk factors relating to maternal health, deprivation and other inequalities influence infant mortality rates, but in order to understand where there are gaps in the quality of care for mothers and their babies, it is vital that the local health service reviews the care mother and baby received when things go wrong," she said.
Related Internet Links
The BBC is not responsible for the content of external sites.