Coronavirus test centre in Telford 'shambles' as 'tests run out'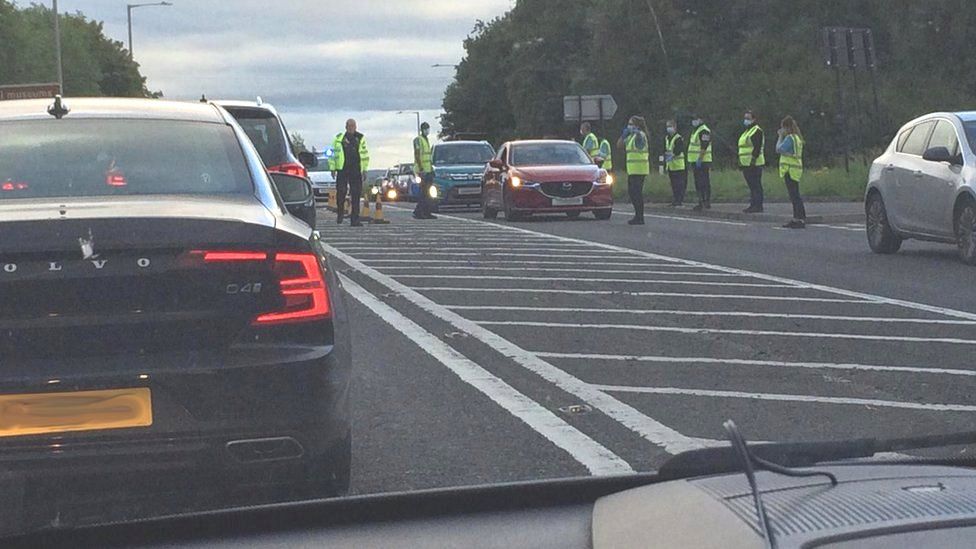 A father who drove two hours for a coronavirus test only to be told they had run out has described the testing centre as a "shambles".
Steve Hynd drove from Mid Wales to an appointment for children in Telford, Shropshire, on Tuesday, and joined a queue of cars before being turned away.
He said there was "utter confusion" about what was going on.
The Department of Health and Social Care (DHSC) says NHS Test and Trace "is working".
Mr Hynd, who lives in Stroud but is currently on holiday, booked the appointment for his two sons, aged one and three, and was told Telford was the nearest site with availability.
"We drove over there and arrived five minutes before our slot of 18:30 to 19:00 only to be met with complete confusion and chaos," he said.
"A lot of people in high-vis jackets were turning people away and being told that they had run out of tests and the test site was closed.
"For people to have faith in this track and test system, it just needs to be working better than this. It is utterly shambolic at the moment."
Mr Hynd attempted to book another test on Wednesday morning, but was told the nearest was 68 miles away.
West Mercia Police said they had been called to the area to help manage traffic but were not involved in closing the site.
In a post on Twitter, Telford's MP Lucy Allan said the centre had closed after "being overwhelmed with people travelling across country for a test after a computer error".
"We worked hard to provide this facility to the NHS so that it could support local people but sadly it seems this is just not happening," he said.
The council said local residents needing tests had instead been directed to Aberystwyth, a 180-mile round trip, and Oldham, which is part of a local lockdown.
The DHSC said: "We are seeing a significant demand for tests but if you have symptoms we urge you to get tested.
"New booking slots and homes testing kits are made available daily and you can help protect yourself if you wash your hands, cover your face and make space."
Related Internet Links
The BBC is not responsible for the content of external sites.