Two ambulance paramedics stabbed in Wolverhampton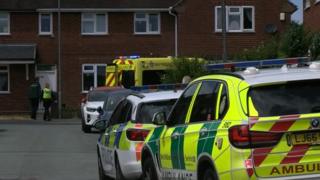 Two paramedics have been stabbed while attending a call to check on the welfare of a man.
The victims, a man and a woman, were described as stable in hospital after being hurt at a property in Stephens Close, Wolverhampton.
The crew used their emergency alert shortly after arriving at the scene.
A man who was Tasered by police was also treated for injuries by ambulance staff. Officers said a man aged 52 has been arrested.
He has been held on suspicion of wounding.
The paramedics were conducting "a safe and well check" at about 12:30 BST when they were attacked.
West Midlands Police said an officer who had accompanied the crew arrested a man at the scene.
The ambulance staff sustained one stab wound each, one in the chest and one to the side.
Assistant Chief Ambulance Officer Nathan Hudson said: "Thankfully, our colleagues at [West Midlands Police] saved them from more serious injury."
Mr Hudson said without the quick response of police, he "would probably have been telling a very different story today".
He reported the paramedics were "doing well" in Queen Elizabeth Hospital Birmingham and "stable, without serious life-threatening injuries".
Neighbour Anita Millard, 65, said a man lived alone at the property and it had been his elderly mother who had first raised concerns for his welfare after he failed to answer the door.
Ms Millard described how two paramedics arrived along with two police officers and managed to gain entry by removing a door panel with a screwdriver borrowed from a neighbour.
She said: "The police asked the man's mother to step back and then the girl paramedic went in, followed by the other medic.
"Then all I heard was a blood-curdling scream. He had two knives.
"The male paramedic then came backwards out the house and he shouted into his radio 'help, help, we've both been stabbed'.
"Then he pushed the female paramedic backwards towards the side gate, and away from it all.
"The guy was stood in the porch holding these knives. Then the police came in and shouted 'Taser' and they Tasered him."
Three additional ambulances, two Midlands air ambulances and the West Midlands Care Team responded to the stabbing, along with three paramedic officers.
The victims were treated at the scene in the Ashmore Park area of the city before being taken to hospital.
Supt Simon Inglis, from Wolverhampton police, said: "This is a shocking incident resulting in serious injuries to two of our blue light colleagues.
"We are treating it as an isolated incident and we are not looking for anyone else in connection with the attack."
The force said its thoughts were with the paramedic officers and their families.
Thanking his staff, Mr Hudson said: "They did an unbelievable job in very difficult circumstances."
Speaking on Twitter, an acting operations manager for the service said: "This has made me feel sick... No one should come to work and suffer such harm. Especially when they've come to help people."
Follow BBC West Midlands on Facebook, Twitter and Instagram. Send your story ideas to: newsonline.westmidlands@bbc.co.uk