Coventry uncovered mosaic part of city centre revamp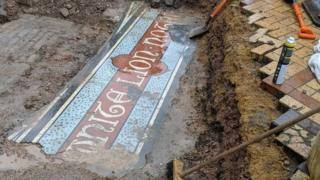 Builders working on a multimillion-pound redevelopment of Coventry city centre uncovered a 150-year-old mosaic.
The tiles were originally from the White Lion Pub, which was demolished in the 1950s.
Archaeologists said the mosaic, uncovered in March, has "potential impact-damage from the Blitz" but is otherwise "beautiful".
Contractors are removing the tiles, which will be a feature of the of the revamped Upper Precinct area.
Councillor Jim O'Boyle, cabinet member for jobs and regeneration, said: "It is important to reflect as much as we can on Coventry's past and this is a thumbnail to something most people in our city have not seen."
Archaeologist Jade Franklin Kennedy told the Local Democracy Reporting Service: "We've had this dated by our specialist and it seems to be from the 1870s to the 1890s.
"There is a part missing but the area we have is in good shape."
A council meeting in March revealed the long-forgotten historic Naiad statue, commissioned in the 1960s by artist George Wagstaff, is also to be brought back to sit in the middle of the £11m works.
The piece was originally created alongside Civic Centre 2 before being moved to Lady Herbert's garden, where it was later vandalised.
"It was then put into storage but taken out and a couple of years later and put in Friargate," said Mr O'Boyle
"Once we progress with the work in Upper Precinct it will sit in pride of place there which is a really good place to go."
Follow BBC West Midlands on Facebook, Twitter and Instagram. Send your story ideas to: newsonline.westmidlands@bbc.co.uk