Lisa Skidmore: Police chief 'deeply sorry' for failings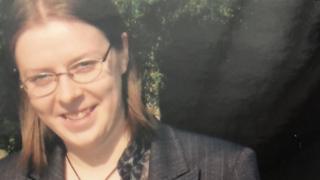 A police chief has said he is "deeply sorry" for failings that led to a nurse's rape and murder.
Chief Constable Dave Thompson said West Midlands Police failed to protect Lisa Skidmore before she was killed in November 2016.
The 37-year-old was killed by convicted sex offender Leroy Campbell at her home in Bilston, Wolverhampton.
Her sister Alison Parker said the family was "still not happy" with the action taken by the force.
Campbell raped and murdered Ms Skidmore before attacking her 80-year-old mother and setting fire to the property in an attempt to destroy evidence, four months after he was released from prison.
He had "disclosed to probation he was experiencing low mood, negative thoughts and feelings that had led to his previous offence," but this "key information" was not shared, Ms Skidmore's inquest heard.
Sex offender manager Sgt Sophie Clement told the hearing she alerted police about her concerns after a visit to Campbell a month before the murder.
An inquest jury found Ms Skidmore was failed by police and the probation services.
One probation worker has been sacked for gross misconduct over the case.
Mr Thompson apologised to Ms Skidmore's brother and sister during a Strategic Policing and Crime Board, the Local Democracy Reporting Service said.
He said her death, and the identification of her attacker, was among the "saddest" days in his 29 years of policing.
"West Midlands Police and the probation service are here to protect the public, and it's very clear that didn't happen in this case and your family weren't protected," he said.
"Lisa should not have been murdered, or her mother attacked.
"Leroy Campbell should never have been in the position to repeat this crime."
"What I want to say to Lisa's family is that I am sorry that we as West Midlands Police failed to protect your family, deeply sorry," he added.
"Nothing can change what's happened, but we must ensure the police and probation service work together to ensure cases like this are prevented."
Ms Skidmore's sister, Mrs Parker, previously said "a lack of competency" and "catastrophic failings" by agencies contributed to her death.
She said the family had asked for another meeting with Mr Thompson, as they still feel no one from the police force has been held accountable for the failings that led to Ms Skidmore's death.
"No one has been disciplined," she said.
"Why, if there were failings, why haven't people been disciplined? Someone needs to put their hands up and say they made a mistake."
Follow BBC West Midlands on Facebook, on Twitter, and sign up for local news updates direct to your phone.