Wolves captain Conor Coady writes to 48 fans in Armenia trip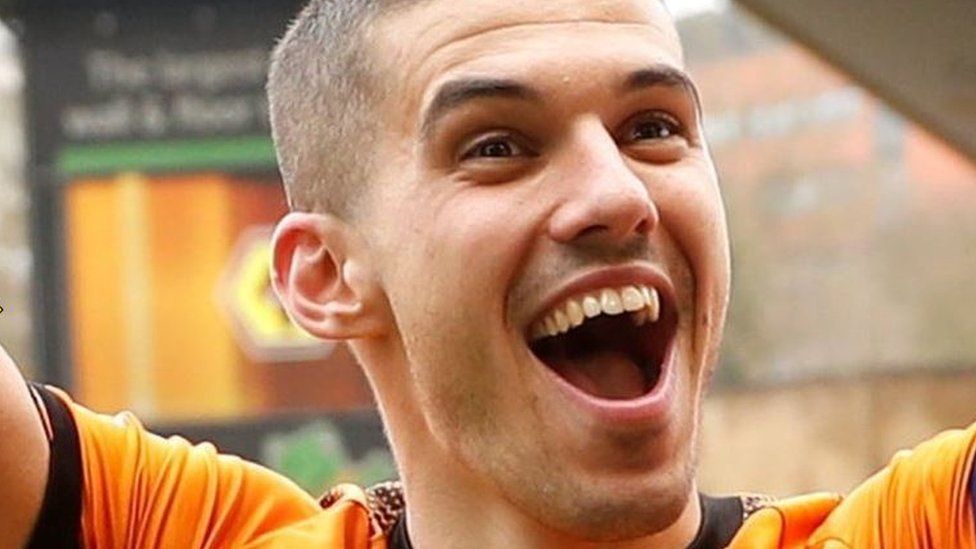 Wolves captain Conor Coady has written to all 48 fans who made the 6,370-mile round trip to their match in Armenia.
He thanked those who saw the team beat Pyunik 4-0 in the Europa League last week, with Wolves in Europe this season for the first time since 1980.
Tickets for the third qualifying round first-leg game in Yerevan were £1, but the expedition cost fans "something like" £1,000, the club said.
Coady had wanted to say thanks and this was "not a publicity stunt", it added.
The letters were all signed individually and had the fans' names on, Wolves said.
Supporter Brian Jones, 60, who has watched Wolves since 1969, said it was "a bit of a surprise".
It was "not unusual" for Coady to be the first player to go across to applaud fans at the end of games, he said.
"He's come through as very iconic really in terms of the development of the club. He gives the impression of [having] a real affinity with supporters.
"I don't think too many football supporters have a letter from the captain, [it's] a nice touch."
Coady wrote that he hoped the players made the trip for the first-leg game worthwhile for fans, Mr Jones said.
The supporter, from Nottingham, said he knew of one man who had not missed a match since 1971 and only arrived with 18 minutes left in Armenia following a delayed flight.
Mr Jones himself waited about six hours for his flight from Moscow and chatted to a Russian football fan with the help of "Google Translate", but felt "quite privileged" to have been to Armenia, where "the most we paid for a pint was £2".
"It shouldn't be forgotten there were loads who'd have loved to have gone, but it was very expensive, it was quite short notice."
A Wolves spokesman said: "He came to us, he wanted to come up with an idea to say 'thank you' to the travelling fans.
"It was such a big effort for those 48 to go there [with] no direct flights and [it costing] something like over and above £1,000 to get there with the flights and hotel."
Coady has got "quite a big connection with the fans and they've got a connection with him," the spokesman added.
"It's not something he's done as a publicity stunt, but a genuine thank you to the fans."
Raul Jimenez scored twice in Armenia on 8 August as Wolves took firm control of the third-round qualifier, ahead of the second-leg match at Molineux on Thursday.
You may also be interested in:
Related Internet Links
The BBC is not responsible for the content of external sites.