Election results: Tories lose Worcester majority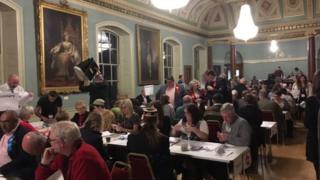 The Conservatives have lost their one-seat majority on Worcester City Council.
Marc Bayliss, leader of the city's Tories, urged the government to "get on with Brexit", saying the delay had lost the party support locally.
Eleven of the council's 35 seats were up for election: the Tories won seven, Labour three and the Greens got one.
The Conservatives now have 17 seats after the party lost one to the Green Party which has a total of three.
Control of Worcester City Council has switched four times in the past six years.
Other results:
Wyre Forest council is now under no overall control after the Conservatives and Labour both lost seats
At Wychavon, the Conservatives retained power
The Conservatives lost control of Malvern Hills council, shedding 10 seats
But in Bromsgrove the Conservatives remain in charge, losing one seat
And at Redditch council, the Tories also retained control
Mr Bayliss said the result in Worcester was a "message" to the government.
"I call on my colleagues in the Conservative party who are not voting for Theresa May's deal to vote for it and let's get this deal done."
The Tories are still the biggest single party in the council with two more seats than Labour and Mr Bayliss added the results "could have been a lot worse".
However, one Worcester would-be Conservative voter spoilt his ballot because of issues surrounding Brexit.
Jordan, known as Jord16— on social media, said: "The major parties have been lying for three years straight about Brexit and, in a two-party system, neither of them deserve to be voted for at any level.
"I'm actually a member of the Conservatives, so under normal circumstances I would have voted for them.
"If there was a Brexit Party candidate I would have voted for them."
The campaign was started by Leave.EU, which tweeted in March, encouraging people to spoil their ballot papers.
It is not illegal to spoil a ballot paper, but filling it out incorrectly or covering it with graffiti will render it invalid.
Follow BBC West Midlands on Facebook, on Twitter, and sign up for local news updates direct to your phone.
Either search using your postcode or council name or click around the map to show local results.