Election results: Tories win Walsall 'despite' PM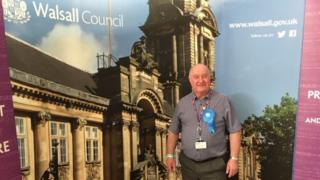 The Conservatives have won a majority on Walsall Council, a victory their leader said was "despite" the prime minister.
With a third of council seats up for election, the Tories took two from Labour, securing 32 to Labour's 26.
In Dudley, both parties now have 36 seats, keeping the council under no overall control although the Tories are expected to take power from Labour.
Labour retained power in Wolverhampton and Sandwell and Tories in Solihull.
In Walsall, it was the first time any party has had a majority since 2011, with the Conservatives having run the authority for the past year relying on the casting vote of the mayor.
Council leader Mike Bird said the Tories won "despite" the Conservative government and Theresa May.
"She hasn't helped us make any gains at all - far from it - we made the gains despite the prime minister."
He told the BBC campaigning was "hard work" and delegates "had to convince people that local elections are about local issues - not what goes on down there [in Westminster]".
Dudley Council will hold a meeting on 16 May to decide the leadership, which is expected to go to the Conservatives after a casting vote by the existing Tory mayor.
Labour had taken control from the Conservatives in September last year, having themselves lost power in 2017.
In the two remaining Black Country elections, Labour maintained control in Sandwell and Wolverhampton.
Labour holds 50 of Wolverhampton's 60 seats after losing one ward - Bushbury North - to the Conservatives, who have the remaining 10.
In Sandwell, Labour went into the election with 70 out of 72 councillors and won all of the 24 seats being contested.
Such a huge majority ahead of the election meant it retained control before all wards had returned results.
In Solihull, the Conservatives' majority was cut to just one.
They lost six seats, while the Green Party gained three, the Lib Dems two and Labour and Independents one each.
Follow BBC West Midlands on Facebook, on Twitter, and sign up for local news updates direct to your phone.
Either search using your postcode or council name or click around the map to show local results.