Birmingham mosques on heightened alert after attacks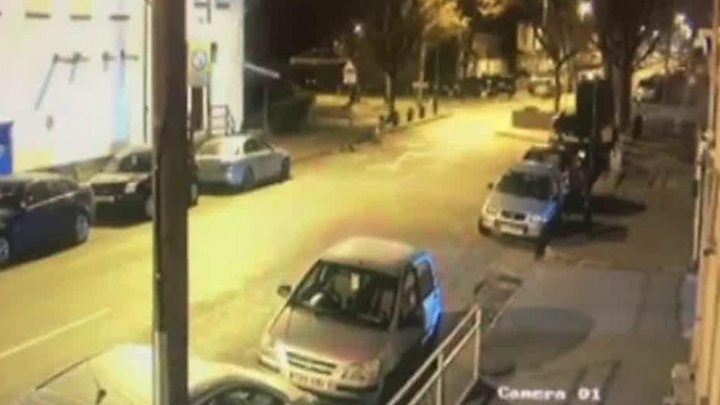 Security has been stepped up at mosques across Birmingham after five were targeted during an "abhorrent" spate of vandalism.
CCTV footage has been released after the mosques had their windows smashed in the early hours of Thursday.
The motive for the attacks remains unknown, West Midlands Police said.
Mosques across the world are also on alert for the first Friday prayers since the New Zealand terror attack, in which 50 people were killed.
In Christchurch, a two-minute silence has been observed in memory of those who died and the dozens more who were wounded.
Adil Parker, of the Birmingham Council of Mosques, said the community had been "taken aback" by the vandalism, some of which was carried out with a sledgehammer.
"The congregation is feeling fearful, they feel vulnerable and there is a lot of angst," he said.
Mr Parker said they had a productive meeting with police on Thursday.
"Since the Christchurch attacks, [police] have been really forthcoming," he said.
"Officers stayed on patrol outside mosques until we opened up again in the morning."
Around the country, members of other faith communities have been showing support.
The Bishop of Chichester, Dr Martin Warner, visited Broadfield Mosque and said: "We shared in the international shock and revulsion at the news of the shootings at the Friday Prayers in Christchurch one week ago.
"This was a cowardly attack on vulnerable people. It was a crime against humanity.
"The attacks yesterday on five mosques in Birmingham is further evidence of a campaign that is evil in its origins, planning and consequences."
Witton Islamic Centre on Witton Road, Aston; Jame Masjid on Birchfield Road; Jam-E-Masjid Qiblah Hadhrat Sahib Gulhar Shareef on Slade Road, Erdington; and Masjid Faizul Islam were all targeted in the early hours of Thursday.
The Muslim Community Centre Aston, on Albert Road, was also damaged at about 10:00 GMT.
At the scene
Sophie Madden, BBC News
Outside Witton Islamic Centre, it is busy ahead of Friday prayers, the service is packed and people are queuing down to the entrance to the centre.
Abu Ibraheem, the imam of the mosque, said they wanted to "spread love, spread understanding".
"We will not allow hate to separate us," he said.
Before the service, Reverend Phillip Nott, vicar of neighbouring Aston parish church, came with a member of his congregation to present flowers and a card.
Mr Nott said they wanted to make a statement they would not allow their communities to be divided "by hate".
He said he had been approached by a "wave" of people who wanted to show support.
Yasser Kassim, a regular worshipper, believes the vandalism was "just someone trying to cause trouble".
In light of the vandal attacks, Yousef Zaman, chairman of Masjid Faizul Islam in Aston, said: "We're not going to stop worship, we're going to carry on as normal, we won't let them win, we will defy them."
West Midlands Police said neighbourhood officers were carrying out patrols and are working closely with mosques.
Speaking outside the Witton Islamic Centre on Thursday, Deputy Chief Constable Louisa Rolfe said: "This is an abhorrent, despicable act that is clearly designed to create fear in our communities who are actually cherished in Birmingham."
Follow BBC West Midlands on Facebook, on Twitter, and sign up for local news updates direct to your phone.