Two boys killed in Wolverhampton hit-and-run crash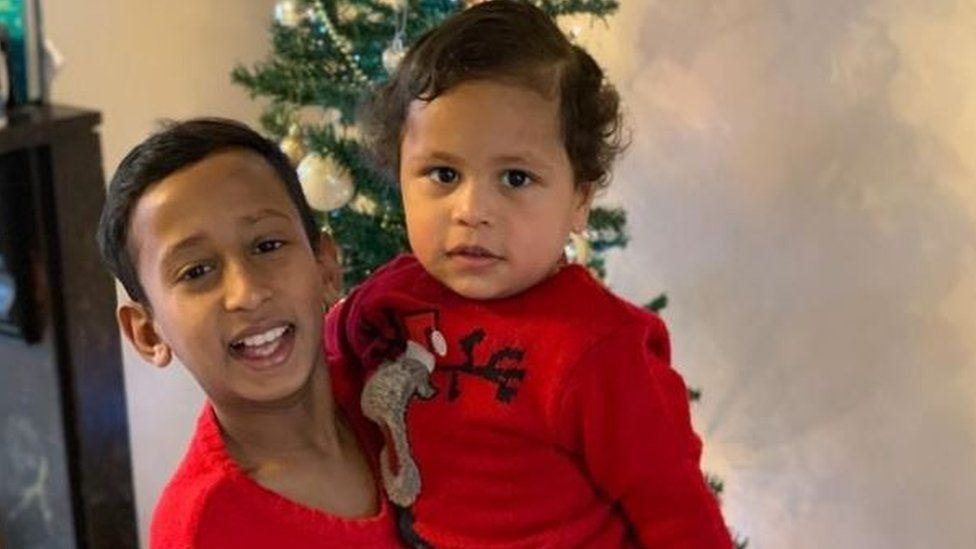 Two young brothers have died in a hit-and-run car crash in Wolverhampton.
Sanjay Singh, aged 10, and Pawanveer Singh, 23 months, were in a BMW being driven by their mother when it was in collision with an Audi S3.
Police have urged the driver of the Audi, who left the scene on Thursday evening, to come forward.
The 31-year-old driver of a third car, a Bentley, has been arrested on suspicion of causing death by dangerous driving.
A taxi driver said two cars had passed him at a "very fast" speed about a mile away from the scene of the crash on Birmingham New Road.
Ambulance crews arrived at the Lawnswood Avenue junction to find members of the public tending to the injured.
Paramedics tried to save the brothers - from Dudley, police said - but they were pronounced dead at the scene.
The mother, whose injuries were not life-threatening, was taken to hospital but has since been released.
A family statement issued by West Midlands Police said: "Our family are grieving over the tragic deaths of our two beautiful children, as well as dealing with the shock of the horrific crash."
Det Sgt Paul Hughes said the boys' mother was physically well but added: "I don't think any of us can comprehend what she and her family must be going through."
Describing how two cars had sped past him, taxi driver Tanveer Hussain said: "I was further up the road, by McDonald's, and two cars overtook me. If I am doing 35 to 40, they were doing much more."
He said he then pulled over when he came upon the crash site.
"I got out of my car and other lads tended to the children. What I saw was terrible," Mr Hussain said.
"It was too much. The mother was just in shock."
Police have confirmed the speed of the vehicles involved was being investigated.
Another witness, who lives nearby but did not want to be named, said: "I didn't see it but I heard it - two cars must have been racing.
"My son ran to the window and said 'they are racing dad' and then we heard an almighty bang.
"My Mrs ran down to see if she could help and all the police and ambulance workers were there. You could see the police officers stopping the traffic were really, really distressed."
Det Sgt Hughes appealed directly to the driver of the Audi to make contact with the police.
"Do the right thing, contact us and give us your version of events.
"You may not be fully aware of the full tragic circumstances but you now need to speak to us," he said.
Police have also urged people who saw a white Bentley Continental convertible and a blue Audi S3 travelling along Birmingham New Road around the time to get in touch.
The crash happened on a road covered by an injunction forbidding people from so-called car cruising.
Prohibited activities include speeding, driving in convoy, racing and performing stunts between the hours of 15:00 and 07:00.
The road was reopened at 03:40.
Related Internet Links
The BBC is not responsible for the content of external sites.