Millionaire's son Antonio Boparan jailed for crash death of girl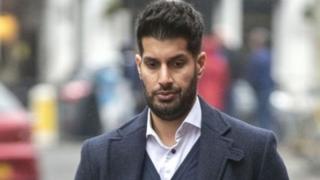 A millionaire's son has been jailed for 18 months for causing the death of a girl who died nine years after a car crash left her severely disabled.
Cerys Edwards was 11 months old in 2006 when Antonio Boparan, then 19, crashed head-on into her parents' car at 70mph in Sutton Coldfield, West Midlands.
Her death was a result of the crash, a post-mortem examination found.
Cerys's father Gareth Edwards described the sentence as an "insult" after "12 years of hell".
Speaking afterwards, he said: "Today we have finally got some justice for Cerys after more than 12 years of hell.
"Finally we can say it as it is, Boparan is a child killer. He has broken our hearts.
"But in reality Boparan will only serve around 15 months behind bars in total for killing a child and destroying several lives, which is a complete insult."
Boparan, 32, of Sutton Coldfield, admitted causing death by dangerous driving at Birmingham Crown Court.
As well as his prison sentence, Boparan was also banned from driving for three years and nine months.
His father, Ranjit Singh Boparan, is known as "The Chicken King" after founding the 2 Sisters Food Group.
Jailing Boparan, Judge Melbourne Inman QC said he had showed "an arrogant disregard for the safety of others" when he drove that day and caused "catastrophic" injuries to Cerys.
He said: "The quality of her short life was destroyed as in many ways was that of her parents.
"Finally, Cerys yielded to her injuries and disabilities and your criminal actions eventually took her life away from her."
Cerys died in October 2015, a month before her 10th birthday, after complications caused by an infection.
Medical experts concluded her death was "a consequence of her spinal cord injury and traumatic brain injury sustained in collision", the court heard.
She had been unable to breathe unaided and needed 24-hour specialist care after the car she was in was hit head-on by Boparan's Range Rover on 11 November 2006.
Following the crash, Boparan was convicted of dangerous driving in April 2008 and served six months of 21-month jail sentence.
He was charged by postal requisition in December last year after a criminal case review was launched following the post-mortem examination results.
Prosecutor Simon Davis described the case as "a short-lived piece of aggressive driving", with Boparan driving at "greatly excessive speed" before the head-on Streetly Lane crash.
Cerys, who was awarded about £5m in compensation after the crash, suffered what one doctor described as a "catastrophic severance of the high spinal cord" and severe head injuries in the collision.
In September 2014, she was admitted to Birmingham Children's Hospital for a "deteriorating respiratory condition". She never left hospital again, and died just over a year later.
Mr Edwards added: "Boparan has never really apologised and never shown genuine remorse to us for his flagrant disregard for road safety and for the devastating injuries he caused Cerys that ultimately cost her her life.
"We have been left with a life sentence without our beautiful little girl whose precious life was stolen from us. We miss Cerys desperately and will always love her."
'Stupid and immature'
Boparan's barrister James Sturman said the defendant had "caused devastation to Cerys Edwards and her family".
He added: "This was a stupid and immature piece of bad driving at high speed over a relatively small distance by a young man, 19 at the time, then driving for six months."
Boparan's father made a £200,000 payment to Cerys's parents to buy a house suitable for her needs, and attended a funeral service arranged by Mrs Edwards for the little girl, the court heard.