Birmingham bin strike: New walkouts planned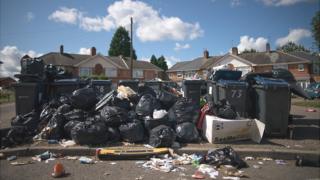 Bin workers in Birmingham are to take further strike action after a three-month walkout in 2017 that led to waste piling up in the streets.
Up to 300 Unite members have been working to rule since 29 December over a payment given to GMB members who did not take part in previous action.
Unite said it was escalating the action, unhappy with Birmingham City Council's response.
The council said it was "extremely disappointed".
John Clancy was forced to resign as leader of the council in the aftermath of the 2017 strike.
Unite said its members would now stage walkouts for two days a week from later this month.
Howard Beckett, the union's assistant general secretary, said: "The council have created this dispute and it is up to the council to resolve this dispute.
"I would say to the people of Birmingham, firstly, I'm sorry that my members have had to take this action, please put yourself in the shoes of my members and please understand why they have had to take this action and please blame the council for it."
A council spokesman said: "We would urge Unite to continue talks as we want to resolve this matter, so citizens get the refuse collection service they rightly expect and deserve."
What happened last time?
Unite workers initially went on strike in June 2017 in a dispute over job losses.
The union claimed restructuring plans threatened jobs, while the council said it would modernise the service and save £5m a year.
Strike action was suspended in August with the council provisionally agreeing certain posts would not be made redundant but workers continued with the walkout at the beginning of September.
The industrial action lasted almost three months and saw thousands of tonnes of rubbish piled up on Birmingham's streets.
Residents were urged to take their waste to tips, while some volunteers took matters into their own hands and cleared rubbish, saying the city was becoming a "big skip".
Why are they striking again?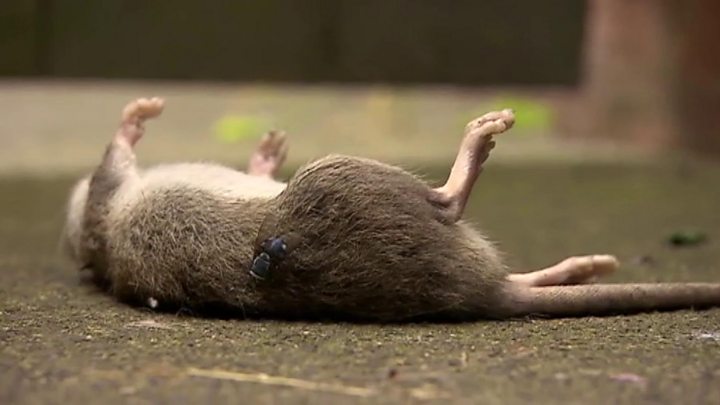 In December, workers voted overwhelmingly to take industrial action over claims Unite members had been denied a council payment made to GMB members who did not go on strike in 2017.
They agreed on action short of a strike, implementing a work-to-rule from 29 December.
On 1 February it was announced industrial action by workers would be "escalated" as the union said it had not had a "satisfactory response" from the council.
The union urged the council to "drop the pound shop bully boy tactics amid mounting legal costs", while the authority said it was disappointed its "reasonable offer" had been rejected.
What are residents saying?
Stella Taylor, from Kings Norton, said she sympathised with bin workers, adding: "If it's true what's happened that the other members of a different union got a payment, well that's not fair.
"I think Birmingham City Council should sort it out because they are always dillying and dallying and after the last bin strike nothing really was changed. I just think it is a complete waste of time for everybody."
Stella Fatta, of Sutton Coldfied, said: "I am not happy that they haven't been able to resolve this issue because it's a major issue for taxpayers to have to put up with because it's hygiene and you have children walking about, playing in the streets.
"It makes it embarrassing to say you are from Birmingham at the moment."
John Warner, from the Hall Green area, said it felt like "the strike hadn't really stopped" because of the work to rule which had taken place since December.
"We are not very sympathetic [to bin workers] I'm afraid. We do expect them [the bins] to be collected," he said.
His wife, Christina, added they were lucky to have big wheelie bins but it still led to "a lot of paper blowing in the wind".
"We do expect this service, especially in a big city like this," she said.
Sandra Loutari said during the last strike her rubbish was not collected for "about two months" and she wanted to see this action resolved "as soon as possible".
"We are paying council tax and it's not a small amount. And it has risen as well."
Nav Sadiq, from the Bearded Broz, a volunteer group which helped clear Birmingham's rubbish during the strikes in 2017, said: "The bin men are not the villains, the real villains are sat in the council.
"I think everyone needs to sit down and come to an amicable agreement."
What is likely to happen next?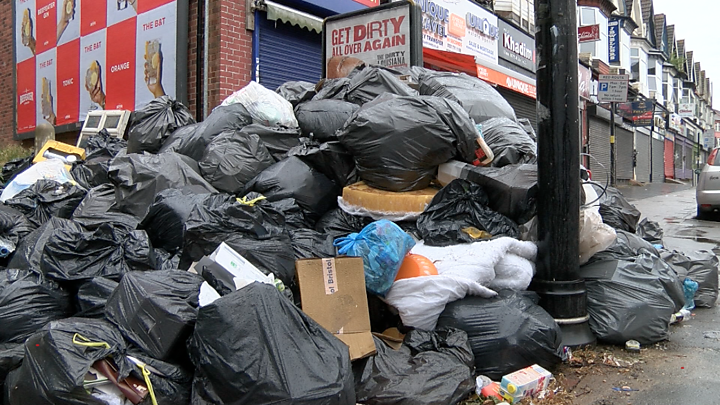 Strike dates announced by Unite are scheduled for 19, 22, 27, 28 February and 4, 8, 12, 13, 21, 22 March.
The council has said it offered binding arbitration to resolve the row, and talks were held at the conciliation service Acas.
It has urged the union to continue talks.
A Birmingham City Council spokesman said: "We utterly refute the allegations made and are extremely disappointed that the reasonable offer we have put forward has been rejected by Unite on behalf of their members."
Timeline of the Birmingham bin strike
30 June 2017 - Refuse workers go on strike in a dispute over job losses
16 August 2017 - Strike action is suspended with the council provisionally agreeing certain posts would not be made redundant
31 August 2017 - The authority says it is issuing redundancy notices to certain grade three workers "in order to protect its legal and financial position"
1 September 2017 - Strike action resumes
11 September 2017 - Council leader John Clancy resigns following criticism of his handling of industrial action
20 September 2017 - The strike is suspended after the High Court granted an interim injunction against the council's bid to make workers redundant
25 November 2017 - Workers agree a deal with the council
14 December 2018 - Workers vote overwhelmingly to take industrial action over claims Unite members had been denied a council payment made to GMB members who did not go on strike in 2017
29 December 2018 - Unite members work to rule
15 January 2019 - It emerges fortnightly rubbish collections would start temporarily, as the authority says it is considering going to court over the industrial action
4 February 2019 - Bin workers announce more strike action
Follow BBC West Midlands on Facebook, on Twitter, and sign up for local news updates direct to your phone.