Bloxwich Christmas decorations woman stuck in ceiling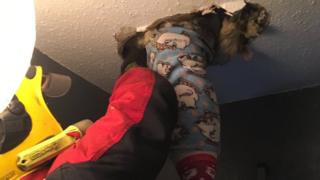 A woman was left feeling a bit Claus-trophobic when she fell through the ceiling while getting her Christmas decorations from the loft.
Stacielea Doran hopped into the loft at home in Bloxwich, but the ceiling gave way and trapped her mid-fall.
She was left between floors with just the legs of her Beauty and the Beast onesie dangling into the room below.
The 30-year-old said after freeing her the kindly firefighters even helped lift down the tree.
Partner 'just laughed'
Ms Doran said she and her partner had just returned from getting some winter sun in Benidorm on Wednesday and decided to get into the festive spirit by putting up the decorations.
After falling, she said she was stuck for 15 minutes while she tried to get the attention of partner Nicki Ball, 34, who was in a nearby bedroom trying to book tickets to see singer Jess Glynne.
"When she came out and saw me she just laughed," Ms Doran said.
"Rather than helping me she took pictures."
She said it was an episode she was unlikely to Fir-get, adding: "I can laugh about it now, if I don't laugh I'll cry."
Crew Commander Adam Lovatt, from Bloxwich Fire Station said, when they received the print out for the call at 10:30 GMT on Friday, all it said was a woman had fallen through the ceiling.
He said: "On the way we were obviously thinking it could be quite a serious incident and there might be someone quite badly injured.
"Fortunately, I think it was embarrassment more than injury.
"I don't think any of us have ever been called out to something like that before."