Gang steal £3,000 after targeting woman's purse on Birmingham train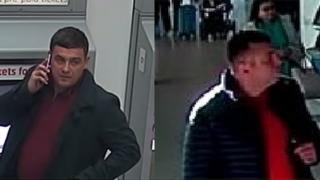 Thieves stole more than £3,000 after they followed their victim onto a train and snatched her purse.
The woman had used her card at Birmingham International where the gang had watched her enter her pin number, British Transport Police said.
Four men then followed her onto a train going towards Birmingham New Street.
They managed to get her purse as she was getting off the train and immediately withdrew cash in the Grand Central shopping centre.
Nearly £2,000 was spent within an hour, police said.
The gang had made an earlier attempt to take her purse from her handbag as she went to catch her train, on the afternoon of 24 October, but failed, police said.
They said she was later distracted by a man offering to carry her luggage as she arrived at New Street, before another took the purse from her handbag.
In total £3,122 worth of purchases and withdrawals from her bank card were made across the city.
Detectives have released four images of men they would like to speak to over the matter.
The British Transport Police was not able to confirm if the victim had been able to recover the stolen money.