Wolverhampton park murder: Parents deny hand in girl's death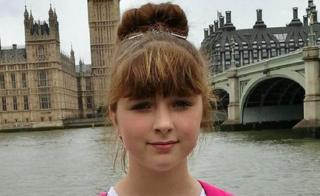 The mother and stepfather of a 14-year-old girl found raped and murdered in a Wolverhampton park have told a trial they had nothing to do with her death.
Viktorija Sokolova's partially clothed body was discovered on a bench by a dog walker in West Park in April.
Neither Karolina Valantiniene or Saidas Valantinas have been charged and branded the defence's suggestion of their involvement as "nonsense".
A 16-year-old boy denies raping and murdering Viktorija.
Her parents' denials came after jurors heard earlier in the proceedings that Mr Valantinas' semen had been found on the underwear Viktorija had been wearing when she was attacked.
He told jurors he did not know how his DNA came to be on her clothing.
Adam Kane QC, representing the accused teenager who cannot be named, asked Mr Valantinas: "Is the real reason why your DNA is disposed as it is, on Viktorija's knickers, because you found her in the park and that you sexually assaulted her?"
Mr Valantinas replied: "This is nonsense, I deny this completely."
Mrs Valantiniene said the same when asked whether she was protecting her husband.
The teenager on trial at Wolverhampton Crown Court is accused of rape, murder and sexual penetration of a corpse.
The prosecution alleges he used Facebook messenger to arrange to meet Viktorija.
Jurors heard that on the Sunday before the Thursday she was found, she went missing from home but her mother spotted her that night at a children's play area.
Mrs Valantiniene told the court Viktorija became violent when asked to return home, and got away.
She was brought back to the family residence by a social worker three days later who advised her parents to "communicate" with her.
The court heard that in December 2017 Viktorija went to live in Ireland for several months with her biological father.
Jurors were told it followed her repeatedly running away, and an incident in which a window was smashed at home.
Mrs Valantiniene phoned 999 and said her child was "very troubled", smoking drugs, and "sleeping with guys".
The trial continues.