Birmingham's House of Fraser store could become new offices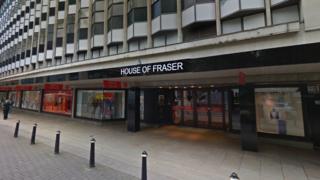 The future of House of Fraser in Birmingham city centre is unclear after the building's owners submitted plans to "attract new occupants".
The shop was earmarked for closure when the department store chain announced in June it was to close 31 of 59 branches.
By October, there were reports of a reprieve after retailer Sports Direct bought the chain.
But that looks to have been thrown into doubt over Legal and General's plans to create nine floors of office space.
Sports Direct has been contacted for comment.
Legal and General has owned the Corporation Street site since 2014 and more than 600 people are employed at the store known locally as Rackhams.
The financial services company said prior to the chain's sale, it had held discussions with House of Fraser about the need for a "reformatted store".
It said it then reached an agreement with Sports Direct to allow the business to continue operating from the premises on a short-term basis, before being handed back for refurbishment.
Sports Direct, Legal and General says, has been kept "fully up to date" with the plans, and responsibility lies with them over "contacting and informing" employees.
Plans set to be submitted to Birmingham City Council respond, the firm says, to "strong demand" for office space and "changing patterns in retailing".
They also include a "boutique" hotel, bars, restaurants, coffee houses and retail space on the ground and lower ground floors.
A spokesperson said "we are confident" the "transformation" would "quickly attract new occupants".
The company hopes the project will create £110m in investment in Birmingham, along with 1,680 new jobs.