Birmingham grammars to prioritise city children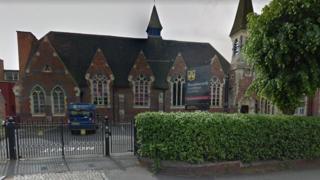 Plans to change the way children get into free grammar schools have provoked controversy with parents.
The King Edward state grammar schools in Birmingham want to give more priority to city children by creating catchment areas.
Three thousand people have signed a petition against the change saying selection should be based on merit.
The academy trust said its "historic mission" was to provide education regardless of background.
The changes would apply from September 2020 to King Edward VI's Aston School, Camp Hill Schools for Boys and Girls, Five Ways School and Handsworth Schools for Boys and Girls.
Admission to all six Ofsted outstanding schools is free, but requires applicants to pass an entrance test. The test is taken by around 6,000 children every year.
Last year places were offered to pupils as far afield as Derby.
The admission test will remain, but with a slightly lower score required, and priority will be given to children in the catchment areas. Places for children from low income families will increase to 25%.
Heath Monk, executive director, said: "We know the future of grammar schools is about grammar schools becoming more inclusive."
Some parents have said they welcome places for children from low income families but have concerns.
Kaja Fawthrop said: "I think the house prices will start to rise in the catchment areas so selection will not be by merit alone."
Hani Syed, who has sons at King Edward schools, said: "It should be based on merit, and not on postcode."
But Nasar Rafique, whose son Ibrahim, 9, is preparing to take the entrance test said: "Kids that have been in care and kids who have poorer backgrounds need to have an opportunity to go to grammar schools."
A consultation on the proposals runs until January.
Follow BBC West Midlands on Facebook, on Twitter, and sign up for local news updates direct to your phone.