'Drug gang members' held after police car rammed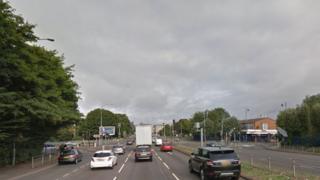 Suspected drug gang members have been arrested, after police swooped on two cars in Birmingham.
A search of a Mercedes pulled over on Belgrave Middleway uncovered machetes and money, after men were reported to be acting suspiciously in the car and an Astra in Sparkhill.
Armed police tried to pull the Astra over in Bristol Road, but the driver rammed their car and sped away before crashing in Pershore Road.
Seven men have been arrested.
Police took a call at 00:45 GMT from a member of the public reporting a group of men acting suspiciously near the junction of Brunswick Road and Ladypool Road in Sparkhill.
The cars moved away, but were monitored by a police helicopter.
The Mercedes was pulled over near Longmore Street and two machetes were uncovered.
Two men from Leicester, aged 18 and 23, and a 25-year-old man from Alum Rock were arrested on Belgrave Middleway on suspicion of weapons possession and money laundering.
One officer suffered a foot injury while trying to stop the Astra as it rammed a police vehicle. He was treated in hospital before being discharged.
Four men were arrested on or near Pershore Road, including a 26-year-old from Aston, a 21-year-old from Bordesley, believed to have been the driver, and a 22-year-old from Leicester.
Another 22-year-old Leicester man, chased down by officers after he tried to flee, was detained in Odell Place.
Those four have been arrested on suspicion of weapons possession, money laundering, dangerous driving and failing to stop at the scene of a collision.