Muslim man's Walsall cemetery bid 'should be dismissed'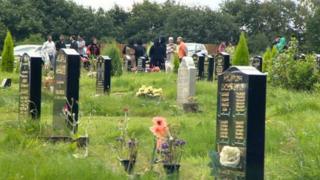 Judges should dismiss a claim made by a Muslim man who wants to erect a 4in (10cm) raised marble edge around his father's grave, a council has said.
Atta Ul-Haq was refused permission to install the barrier at Streetly Cemetery, in Walsall, West Midlands.
His High Court claim said his human right to exercise his religion has been breached.
The authority said its approach had been "sensitive and careful".
Mr Ul-Haq, a Barelvi Muslim, said he wants to erect edging around the grave of Hafiz Qadrim, as Islam forbids stepping on burial places.
'Sacrosanct'
He has argued the right to exercise religion is enshrined in Article 9 of the European Convention on Human Rights.
At the hearing, barrister Mr Jonathan Auburn, for the council, said the authority cannot accommodate Mr Ul-Haq's wish without "harming the rights of other Muslims".
Its regulations permit "mounding of graves" to prevent people walking on burial plots, Mr Auburn said - a technique which has been used by other mourners.
He said Mr Ul-Haq's request would be unacceptable to other Muslim groups.
Barrister Michael Fordham QC, for Mr Ul-Haq, said the case could have implications for the Islamic community.
"The request is borne out of a fundamental religious belief that the grave is sacrosanct".
Two judges, Lord Justice Singh and Mrs Justice Carr, are due to conclude the hearing on Wednesday.
The court ordered a judicial review of the council's ban on grave decoration in February after Mrs Justice Cheema-Grubb deemed it was "in the public interest within the diverse community of Walsall".
At that time, the council had maintained that its "lawn-and-headstone only" policy was lawful and meant that graves "consist[ed] of straight rows of headstones and a lawn of flat grass throughout the cemetery".