Woman fell from 11th floor flat in Birmingham 'after row'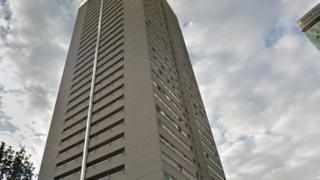 A woman fell backwards from the balcony of an 11th floor block of flats and later died after a row with her boyfriend, an inquest heard.
Witness Brian Suffolk said he saw Bianca Martina Gobourne-Thomas, 25, fall from Cleveland Tower, Birmingham.
But her boyfriend Michael Joyce denied they argued and said she fell while he was inside the flat early on 6 August.
Coroner Louise Hunt said Ms Gobourne-Thomas fell while intoxicated and recorded a verdict of accidental death.
Ms Gobourne-Thomas suffered "severe" injuries when she landed on a canopy and died in hospital nine days later.
'Psycho' nickname
Mr Suffolk said he heard an argument with "foul language" when he went to his car at about midnight and saw Ms Gobourne-Thomas fall backwards from the building.
Mr Joyce told Birmingham Coroner's Court Ms Gobourne-Thomas was "a bit tipsy" when she visited him.
"She went out onto the balcony, we usually went out there," he said.
"I was getting a cigarette when I heard a bang."
He said he saw the chair she was sitting on had been moved and, believing she had fallen, called an ambulance.
The inquest heard Ms Gobourne-Thomas's family only knew of her boyfriend as "psycho", which he told the hearing was his "nickname" from when he "used to do graffiti".
'No struggle'
Mrs Hunt, senior coroner for Birmingham and Solihull, said she had heard "two very different accounts" from Mr Suffolk and Mr Joyce.
But she said there had been no evidence of a "disturbance or struggle" or that Ms Gobourne-Thomas had been in a "low mood".
She concluded Ms Gobourne-Thomas, who was about two and half times over the legal alcohol limit, "overbalanced while sat on the balcony".
She also had ecstasy and cocaine in her blood.
Det Insp Vanessa Eyles, of West Midlands Police, said Mr Joyce was initially arrested on suspicion of attempted murder. He was later released facing no further action.
Det Insp Eyles said no-one else reported hearing an argument.
Ms Gobourne-Thomas's mother Diane Thomas described her daughter as a fun-loving girl with an "infectious laugh" who would help anyone.