JLR to cut 200 jobs as production moves to Slovakia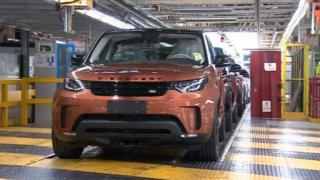 About 200 jobs will be cut when car manufacturer Jaguar Land Rover (JLR) moves production to Slovakia, the BBC understands.
The firm announced in June it planned to move production of its Land Rover Discovery SUV from its Solihull plant.
There will also be a "temporary pause" in production at the Wolverhampton engine manufacturing centre, understood to affect about a third of workers.
JLR said "the external environment remains challenging" for business.
The company, which is owned by the Indian group Tata Motors, said it was taking "decisive actions to achieve the necessary operational efficiencies to safeguard long-term success".
The job cuts come as a response to "fluctuating demand", JLR said, and are on top of the 1,000 cut in April at the Solihull plant.
The company previously blamed a sharp fall in UK sales on "consumer uncertainty surrounding diesel models, Brexit and vehicle taxation".
It is understood there will be opportunities for voluntary redundancy, but the cuts are expected to mostly affect temporary and agency workers.
There are 1,800 agency workers in the Solihull plant, out of a workforce of 10,000.
At the Wolverhampton engine plant, JLR said there would be a "temporary pause in production in its machine and assembly halls", expected over the Christmas period.
The BBC understands this will affect about 500 employees.
JLR said "salaried staff" would continue as normal during the pause with impacted workers continuing to receive full pay.
In September, about 1,000 workers at the firm's Castle Bromwich plant - half of the workforce - were put onto a three-day week until Christmas.
The move was blamed on "Brexit chaos" and sinking diesel sales by Labour MP for Erdington, Jack Dromey.
JLR said it was "continuing to invest heavily in its UK manufacturing", but the transformation of the company towards more electrified vehicles relies on "tough decisions".