Big chain supermarkets hike prices at smaller branches
By Jonathan Gibson
BBC Inside Out West Midlands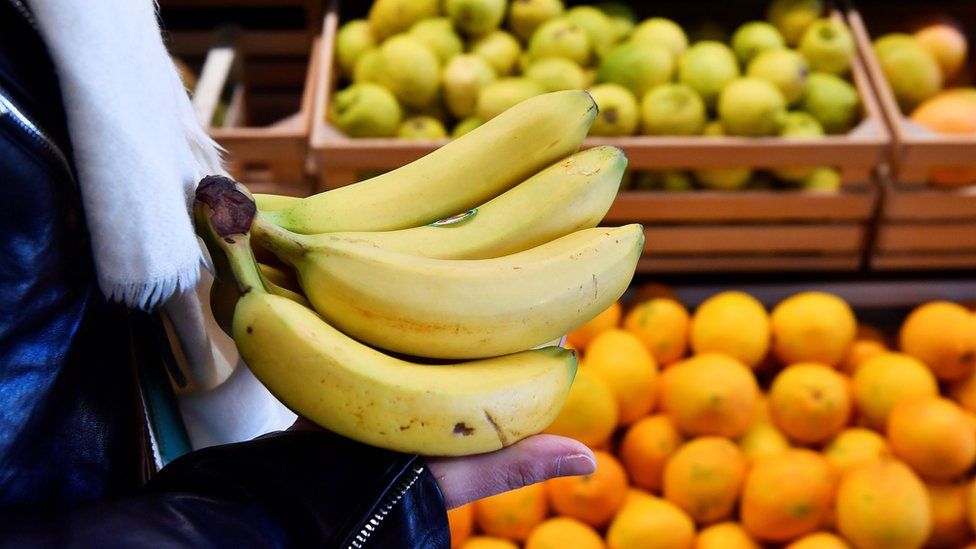 Shoppers are being charged more for buying from big-chain convenience stores, a BBC investigation has found.
In one case, a trolley of groceries cost almost £10 more in a smaller shop than at the company's superstore.
BBC's Inside Out looked at a mix of own-brand and branded items from two types of Tesco, Sainsbury's, Marks and Spencer and Waitrose.
The supermarkets said the price difference was due to the higher costs of running the smaller branches.
At Marks and Spencer the same trolley of shopping cost £103.26 at the Birmingham High Street store and £112.44 at Simply Food in Birmingham New Street Station.
In the Tesco superstore on Camden Street, Birmingham, a banana cost 9p, but was priced at 25p at the Tesco Express in Fredrick Street, a mark-up of 177%.
The shops were visited between September and October this year.
At Sainsbury's and Marks and Spencer stores in Birmingham, and Waitrose shops in Shropshire, 45 of 50 items cost more in the convenience location.
And at the Tesco Express, 39 of 50 items cost more than in the superstore.
Shopper Maggie Henning said she found she was spending more at Tesco Express after a Tesco supermarket she previously used in Birmingham, at Fiveways, closed.
She said: "I think that's terrible.
"It's people like me, who need a convenience store because they haven't got a car or can't get to a large supermarket, that are actually paying the price for that."
Analysis by Sylvia Rook - Lead officer, Chartered Trading Standards Institute
With normal economy and supplier demand, it is often the case that smaller shops, and those in more remote areas, will charge more.
I always think that when you look at service station petrol prices on motorways, that is very telling, because they are normally hugely more expensive but they are open 24 hours and have higher overheads.
With smaller stores, deliveries are also harder to get to them.
It is something which has always happened and something that will always happen in future.
The law says shops must not mislead people, it is something that they must be clear about if they are advertising nationally.
Shops must indicate if an offer does not apply to small stores as well and sometimes you will see in small print "not available in local stores".
The Price Marking Order 2004 orders that the price must be clear, consumers should never have to ask the price of anything and it should be clearly available without having to ask, which supermarkets are largely very good at.
In statements, the supermarkets all agreed the increase in prices was because of higher operating costs in the convenience stores.
Sainsbury's said that was due to the smaller shops being placed in town and city locations.
Waitrose also said that higher rent and increased rates for longer opening hours were among the reasons for higher costs, but said it did offer "promotions" in smaller stores.
Tesco said it worked hard to offer customers "great value".
Marks and Spencer said it tried to "keep prices competitive", but "in line with other retailers" prices could be higher in convenience stores.
The full investigation can be seen on BBC Inside Out West Midlands at 19:30 GMT on BBC One on Monday 19 November and for 30 days after on the BBC iPlayer.