HMP Birmingham: 'Signs of improvement' at 'worst' prison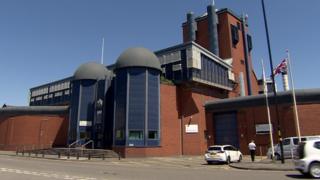 A troubled prison that was taken over by the government is showing early signs of improvement, monitors say.
HMP Birmingham was removed from the control of G4S in August after it was said to be in a "state of crisis".
The Independent Monitoring Board said conditions inside the jail had been "squalid" and "vermin infested".
However, the board said additional staff and a reduced prison population had made a difference and it was now "turning a corner".
During the year inmates had been kept in cells with no water, exposed electrical sockets and unscreened toilets, the report found.
"Birmingham Prison still has much to do," it said.
It said the prison was "not a safe environment for many", with an average of 120 assaults reported each month and rats and cockroaches "in evidence in many areas of the prison".
The report covers the period up until the end of June - a month before the government intervened.
It found cells were often not fit for purpose and highlighted one example in which a prisoner was without water in his cell for more than two weeks.
In another instance, a prisoner had to mop his cellmate's blood from the floor and door when he was assaulted. He then used bedding to stem the bleeding, which was replaced with further soiled bedding.
The report also highlighted the "unacceptable" cancellation of hospital appointments - in particular a prisoner with a kidney transplant having nine appointments cancelled because of clashes with staff lunch hours.
A government action plan published in August said it would "focus on getting the basics right", including recruiting more staff, refurbishing cells, and reducing drug supply.
Analysis by Kathryn Stanczyszyn, BBC News Correspondent
Back in the summer, Chief Inspector of Prisons Peter Clarke described HMP Birmingham as the worst prison he had ever been to. Prisoners were living in squalid conditions, mistreatment and drugs were rife, and the amount of violence a major cause for concern. He decided enough was enough and took the rare step of asking the government to step in and take over.
Three months on and the Independent Monitoring Board says that intervention is starting to make a difference, due in part to the number of staff going up - and the number of prisoners going down.
This latest update says early progress appears to have been made but there is still a significantly long way to go when it comes to bringing Birmingham up to standards seen elsewhere in the country. It sits within a report that details the damning history of the past 12 months and a long list of frustrations with G4S.
It has always been the plan that the company will take the reigns again when things improved. But there is no inkling yet of when that might be.
The report said while the "retention of staff has improved" a lack of "visibility and control leads to undue prisoner influence".
It said there had been fewer incidents of psychoactive substances being abused but an increase in cannabis use.
Drug use, along with debt, bullying and gang-related issues, continued to be the main causes of violence, according to the report, with prisoners often "self-isolating" because of threats to their safety.
Roger Swindells, who chairs the IMB, said "early signals" of improvement were being seen since the prison service took back over the running of the jail.
"The challenge is to maintain the improvements," the IMB said.
Prisons Minister Rory Stewart said: "We took decisive action at HMP Birmingham, stepping in to strengthen the management, bringing in additional staff and reducing the population, and I'm pleased the IMB recognises that we are making progress."
He said the new governor Paul Newton and staff were "working tirelessly to drive up standards" and improve safety and living conditions.