Birmingham politicians open up on mental health problems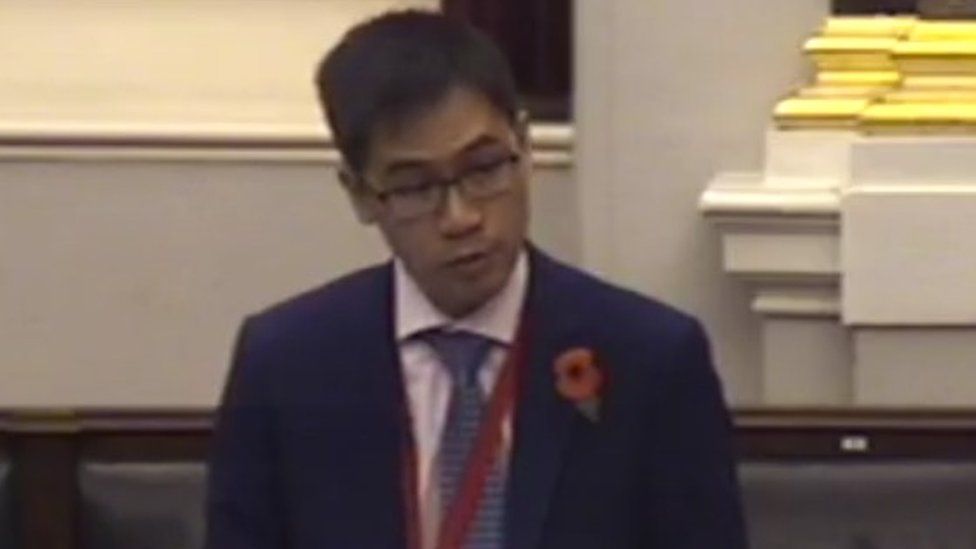 Most people might expect a council meeting to feature dry talk of budgets and party-political points-scoring. That was turned on its head during a discussion in Birmingham on mental health. Three members stood up in the chamber to lay bare their own troubles and experiences. These are their stories.
Councillor Alex Yip was doing something he'd done countless times before.
He was attending a full meeting of Birmingham City Council, with, as usual, its pages-long agenda.
That meant Mr Yip did something else he'd done countless times. He stood up to share his opinion.
But this time, not only was it based on experience, he shared something deeply private. He spoke about the time he wanted to die.
It was more than a decade ago, on a teaching placement, that things got too much.
"In Shanghai I found myself dangling my feet off the edge of a seven-storey building in the middle of the night with the wind in my face."
It followed a "really low point" in his life when, having volunteered at HIV clinics in Africa, he realised "just how bad the world can be".
He had wondered in that period what difference one person could possibly make. And seven storeys high, aged 23, things felt worse.
There was, though, someone who did make a difference.
Friends had become worried for Mr Yip's welfare and began a search, with one finding him and talking him down from the height. Mr Yip is now working on a mental health booklet which he hopes will be given to every student in the city.
The Conservative member for Wylde Green ward said it had been hard to tell his story to colleagues and opposition members, but was glad he shared if it provoked change and the city committed itself to a review of how it tackled the issues.
Anyone giving their view in the chamber may normally expect some barracking, or pointed riposte. On Tuesday, Mr Yip sat down to applause from all sides and the motion went on to be passed.
Councillor Mike Sharpe, a Labour member, would not normally find too much in common with his Tory counterpart Mr Yip. In the chamber on Tuesday, however, they were united like never before.
Members' papers told them that about 70 people in Birmingham took their lives each year. Without the intervention of a psychiatrist, Mr Sharpe said, he might have been one of them.
He was once a soldier in the Queen's Own Hussars, serving two tours in Northern Ireland in the early 1970s, during which, aged 20, he saw things "I would rather not have seen".
The meeting heard he believed he might have post-traumatic stress disorder (PTSD).
Mr Sharpe said: "The trouble with mental illness is you walk around the street and you look fine, but you're not. Inside you are churning like nobody knows you are churning."
His wish for the city is to move the conversation from the internal and private, to the external and public, but not just at the point of treatment.
The councillor for Pype Hayes said it was important for people struggling with their mental health to talk and not in rooms full of people wearing "white coats". The issue, he added, "must not be swept under the carpet by the council".
Instead of budgets and bins, housing and highways, the Conservative member spoke of the gift of friendship - and missing it.
He told the meeting of a close friend who died in 2016 and how it was only this year he learned the death was suicide.
The member for Frankley Great Park said: "Nothing was off topic for us; you name it and we would talk about it.
"We would constantly challenge each other and strengthen our arguments.
"Through this we built a very strong friendship. I miss him, and I miss those debates."
But, Mr Morrall added, there was comfort in the knowledge his friend would have been pleased to see him broaching the topic of mental health.
Where to go if you need help
If you, or someone you know, is struggling, you can find support via BBC Action Line.
Related Internet Links
The BBC is not responsible for the content of external sites.