Birmingham street lights could be dimmed to save money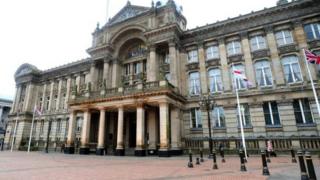 Up to £86m in savings must be made by Birmingham City Council in the next four years, its budget proposal says.
Council-owned community centre closures and streetlights being dimmed overnight may happen if plans under public consultation are approved.
A specific consultation over an £18m saving for 2019/20 will roll out from 13 November.
The council said it was the "most challenging period" in its history.
Reserves will not be used to balance the books next year following severe criticism and a formal warning from auditors after accounts showed it spent more than £116m in the last two years.
It has already "saved around £690m since 2010" and aims to save £50m over the next year, much of which "has already been consulted on and are ongoing savings".
Council leader Ian Ward for the Labour-run authority, said: "This is still the most challenging period in Birmingham City Council's history."
He rejected the government's claim that austerity is coming to an end, saying "it is not over from a local government perspective, certainly not from the numbers we are presenting".
"We know that the decisions we are proposing will affect the lives of many people across the city which is why it is so important for us to hear from you, and that you take the time to engage with us," he said.
The public consultation will run for seven weeks up to New Year's Eve.