Birmingham shooting: Police in Handsworth seek tip-offs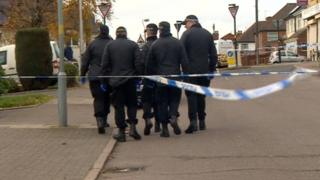 Officers investigating the shooting of two boys outside a Halloween party have urged the public to come forward with information.
A 15-year-old boy was shot by a single round which went through him before hitting his cousin, aged 14, in Handsworth, Birmingham, on Friday.
West Midlands Police said it was "unacceptable" for two children with no links to criminality to be shot.
Detectives said they had received little information over the shooting.
The cousins were standing on the doorstep of a relative's house where the party was being held, having knocked on the front door moments before.
Officers said "a powerful firearm" was discharged from a car which left the scene in Victoria Road at about 20:15 GMT.
The bullet that hit the teenagers went through the front and out the back of one of the boys before lodging in the other's stomach.
The victims have both undergone surgery and are currently in serious but stable conditions in hospital. They are both expected to make a full a full recovery, police said.
Both teenagers had been to a community centre earlier in the evening before heading to the Halloween party.
The bullet was fired from a vehicle which pulled up on the opposite side of the road, according to witnesses.
Det Supt Maria Fox, of West Midlands Police, said: "Two children with no affiliation to any sort of criminality being shot at is a very serious and unacceptable position for us to be in."
Despite a high-profile appeal over the weekend, police had not had a single call from the public more than two days on from the shooting.
Det Supt Fox said the shooting had "crossed the line" and she would have expected people within the criminal fraternity to have come forward anonymously with the names of those responsible.
She said: "My expectations were when they heard two children had been shot outside a family party in Handsworth that would create a reaction or response in the community, whether from the criminal community or law-abiding community."
Police are now studying CCTV and have identified that the round may have been fired from a dark-coloured car containing several people.
A bullet recovered from the second victim has been sent to a specialist firearms lab for fast-track analysis, which officers hope will shed light on the gun and exact calibre used.
While both boys had been "briefly" spoken to, because of their conditions officers had yet to get a full account of their movements.
Chaman Lal, the Labour councillor for Soho and Jewellery Quarter, which covers the area, said it was "terrible" innocent victims could be shot at in "random shootings".
Harpal Bansal, who has lived in the area for 28 years, said: "You can't dare to say anything, you never know whether people have anything with them."
John Foster, 58, said the shooting made him scared for his 11-year-old daughter.
He said: "I used to go out at night but now I don't as there is always something going on."