Serial Birmingham car-jackers used tow truck for thefts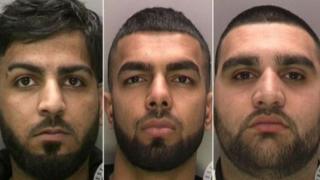 Three men who carried out a string of car-jackings and towed parked cars away with a pick-up truck have been jailed.
Sarweeth Rehman, Hussun Ashraf, Adal Azam, all 22, targeted lone motorists in the West Midlands. They also used a recovery truck to steal cars.
West Midlands Police said the group used a "grotesque level of violence", including assaulting drivers with golf clubs, baseball bats and metal bars.
The three were jailed at Birmingham Crown Court on Tuesday.
Police said in one day in August 2017, the group dragged a woman from behind the wheel of her Volkswagen Golf and Rehman caused £10,000 of damage to another car after the driver fled, throwing his keys into a garden.
Over two months, they stole two further cars, one which was tracked to Harborne and found to have an iPhone, traced to Ashraf.
His home was raided and another phone was found, linking him to three more car-jackings.
A further police investigation exposed how the group also used a truck to tow away seven cars between 4 May and 13 June 2016.
Ashraf and Rehman had been on bail on suspicion of conspiring to steal motor vehicles at the time of the offences.
Ashraf and Rehman admitted conspiracy to rob and conspiracy to steal motor vehicles. They also admitted two counts of assault with intent to rob.
Rehman, of Hartopp Road, Alum Rock, was jailed for five years and nine months and Ashraf, of Stuarts Road, Stetchford was jailed for six years plus and four months.
Azam, of Watson Road, admitted conspiracy to steal motor vehicles, robbery and assault with intent to rob. He was jailed for three years and 10 months.
A fourth man, Shoaib Hussain, 28, of Primley Avenue, Bromford, pleaded guilty to conspiring to steal cars and was given a 12 month sentence suspended for 18 months.