Mum and baby refused entry at NEC event over health and safety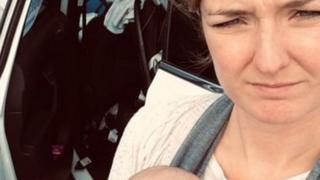 A mother carrying her baby in a sling was refused entry to an event at the NEC due to heath and safety fears.
Emma Doney was turned away by security over a ban on under 18's attending The Care Show in Birmingham.
She had travelled over 100-miles with her four-month-old daughter, but said the snub left her feeling "belittled."
Event organisers CloserStill Media said there was a clear age policy during online registration, and they have no insurance for minors.
But Mrs Doney, from South Gloucestershire, feels the world of business should do more to incorporate children in the 21st century.
She told the BBC: "I felt belittled in that moment.
"I have a baby not a young child running about."
She added: "I couldn't leave my child as she would have needed breastfeeding and they are discriminating against that.
"It was a care event which should have been viewed with compassion."
The annual care event offers conference sessions and training for care professionals.
A CloserStill Media spokesman told the BBC: "CloserStill was sad to hear Ms Doney's story, because as an experienced and responsible event provider inclusivity is at the heart of everything we do.
"At the Care Show we have a clear policy that you must be 18 or older to attend. This is in place for both health and safety reasons and also because we do not have insurance for minors if anything was to happen.
Latest news and live updates from the West Midlands
"This policy is stated on our website and was clearly visible when Ms Doney registered," he added.
The spokesman said CloserStill Media had offered to pay for Ms Doney's petrol, refunded her parking and provided free online access to conference materials.
The NEC said some shows follow an age restriction code for "many different reasons".