Dad of autistic girl sees off Walsall Council gag order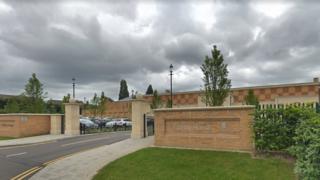 A father has seen off a council's bid to secure a gagging order stopping him from speaking out about his daughter's treatment in a psychiatric unit.
Bethany, 17, who has autism and extreme anxiety, has been locked in a seclusion room for almost two years.
Her father Jeremy, 50, had been fighting an injunction sought by Walsall Council banning him from discussing her plight.
The council said it wanted to protect Bethany by shielding her identity.
Her family, whose surname cannot be published, told BBC File on 4 she has been kept in seclusion at St Andrew's Hospital in Northampton for 21 months.
'Taxpayers' money wasted'
It said Bethany was being detained as she had been aggressive and self-harmed.
Jeremy, a former teacher from Harborne, Birmingham, launched a social media campaign to put pressure on the council to move her out.
The authority sought the injunction to prevent him speaking about where Bethany is being held or her health.
However, Jeremy fought the application, which was withdrawn by the council at the High Court on Thursday.
The judge also told the authority to pay Jeremy's legal costs, according to charity Mencap, which has been supporting Bethany's family.
It said assessments had concluded she would be better-placed in the community with a high level of support.
The charity also said it has since been agreed Bethany will be moved into a secure unit with two rooms.
Mencap's head of policy Dan Scorer said: "We want to see Bethany out in the community.
"The injunction application was a waste of taxpayers' money and completely unacceptable."
Bethany's care costs the NHS £13,000 a week. If she moved out into the community, Walsall Council would have to cover the cost, Mencap added.
The authority told the Times it only wanted to "narrowly restrict the publication of information that could identify Bethany".