Man takes his horse into Bilston pub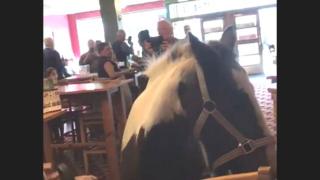 Have you heard the one about a horse walking into a bar?
It sounds like the opening of a joke, but it was a reality for pubgoers in the West Midlands as this horse found its way into a local Wetherspoons.
The horse was taken into the Sir Henry Newbolt in Bilston on Friday, as customers enjoyed an afternoon drink.
A video posted on Facebook by Kerry Ashfield has since been shared thousands of times.
'It's an 'oss'
During the clip the horse can be seen inside the pub as his owner is asked by a member of staff to "take the horse out".
And in Black Country dialect, another staff member can be heard saying "it's an 'oss [horse] in the pub, take it out".
Ms Ashfield, 40, said: "He [the owner] drinks in there and he just came in with his horse.
"It's not something you see every day, it was just really funny, everybody was trying to film it."
The pub declined to comment. The BBC has contacted J.D. Wetherspoon for comment.