Cannock landfill searched after suspected death of man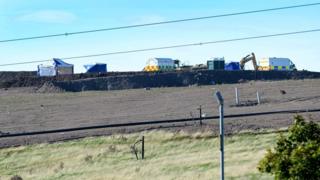 A landfill site is being searched by police after the suspected death of a 29-year-old man.
West Midlands Police are at Poplars Landfill Site, Cannock, investigating a "possible death" at Timmins Waste in Wolverhampton.
Police said the man may have died as a result of an industrial incident at the site in Mander Street, but his body had not been recovered.
Timmins Waste was contacted by the BBC but declined to comment.
West Midlands Police was first alerted on 14 September by the man's mother, who was concerned he had not returned from work.
Police are working in liaison with the Health and Safety Executive.
A singular bunch of wilting flowers has been taped to a post just outside the Timmins waste centre. The message reads: "RIP Tipman Dave."
It was business as usual at the premises on Wednesday, with waste lorries travelling to and from the centre.
A source at the scene told the BBC: "There were lots of police here and they taped it all off last week.
"They were here until Tuesday and then they took some stuff, took everything down and left.
"Nobody seems to have any idea what happened to him."
West Midlands Police said Timmins Waste had been secured for examination, and the man's next-of-kin was being fully updated on the investigation.
A police spokeswoman said: "The precise cause of his death is yet to be established and remains unexplained."
A spokeswoman for Biffa, which runs Poplars Landfill site, said: "Biffa can confirm that, at the request of the police, we are facilitating a search at our Poplars Landfill site in Cannock. This follows the delivery of material by a third party to our site on Sunday 16 September."
A Health and Safety Executive spokesman said it "is aware of the incident and is supporting the police who remain in the lead of the investigation, as per the work-related death protocol."