Charlene Ellis and Letisha Shakespeare murders: Legal challenge of key witness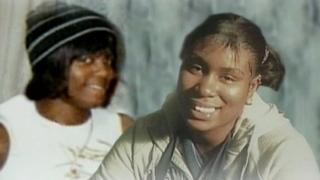 The mothers of two girls murdered in a gangland feud have returned to court to see an application by the killers to reveal the name of a secret witness.
Charlene Ellis, 18, and Letisha Shakespeare, 17, were shot in Aston, Birmingham, on 2 January 2003.
Four men were convicted following a trial that included testimony from a man whose identity remained a secret.
Their lawyers argue he should not have been granted anonymity because of his connections to "gangland activity".
Marcus Ellis and Rodrigo Simms were convicted along with two others, but the pair's barrister said the prosecution failed to reveal all of the anonymous witnesses previous convictions, or the number of times he had been arrested for gangland activity, the hearing at the Old Bailey was told.
Timothy Maloney QC said new material about the anonymous witness, which has recently emerged, shows he was involved in gangland crime to a greater extent than was revealed to the jury.
He claimed this would have been a motive for the witness to help convict certain people and had that information been disclosed, the witness would not have been allowed to conceal his identity.
Mr Maloney QC told the court that "this material is highly relevant, it's not just more of the same", but shows the witness to have had "considerable involvement " with one particular gang.
But prosecutor Zoe Johnson QC said "there is no topic that has not been challenged or examined at the original trial".
Bev Thomas, the mother of Charlene Ellis, told the BBC: "I find it distressing as I was told we wouldn't be back."
Marcia Shakespeare, the mother of Letisha Shakespeare, added: "I think it's quite disturbing that we've had to come back to court in particular as we're serving the life sentence of our girls being murdered."
Judge Sir John Goldring will give his decision at a later date.
The 2005 proceedings was the first time in English law a main witness was granted total anonymity, even though he was a known criminal.
The girls were hit by sub-machine gun fire in a drive-by shooting outside a hair salon - where they had attended a party - during a botched revenge attack by one gang on another, their trial heard.
In 2012, Ellis - Charlene's half-brother - along with Simms and a third man, Nathan Martin, lost an appeal against their convictions.
Ellis, Simms, Martin and a fourth man, Michael Gregory, were convicted of the teenagers' murder and were each jailed for life.