Man charged after traffic warden stamped on in Alum Rock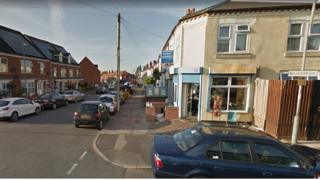 A man has been charged with assault after a traffic warden was dragged from his moped and kicked and stamped on before his vehicle was stolen.
The attack happened on Hartopp Road in the Alum Rock area of Birmingham on Friday.
Danyal Bashir, 19, of Hartopp Road, has been bailed to attend Birmingham Magistrates' Court on 16 October.
A 20-year-old man arrested on suspicion of robbery has been released while the investigation continues.
West Midlands Police thanked the community for its "fantastic response".
Despite the "sickening violence" shown in the attack, the victim did not suffer any serious physical injuries, the force said.
Det Insp Jim Church, who is leading the investigation, said: "We have had a fantastic response from members of the public.
"We are working through the information we have received as a priority and anticipate we will be knocking doors very shortly."
Birmingham city councillor Waseem Zaffar said the traffic warden was "doing pretty well" and a helmet he was wearing when attacked had protected him "substantially".