HMP Birmingham: Government plan to restore safety unveiled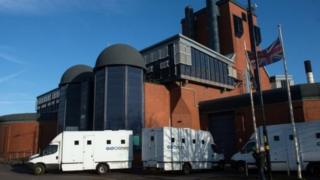 A plan to "restore safety" at a troubled prison has been announced by Justice Secretary David Gauke.
It comes a month after the government said it would take over G4S-run HMP Birmingham, described by inspectors as in a "state of crisis".
Private company G4S could not "make the necessary improvements alone," Mr Gauke said.
In August Peter Clarke, chief inspector of prisons, described the jail as the worst he had ever been to.
There will be a "strong focus on getting the basics right" as part of a joint improvement plan with Her Majesty's Prison and Probation Service, Mr Gauke said.
Mr Clarke detailed "appalling failings" at the prison in a letter to the Ministry of Justice in August.
Inspectors found blood, vomit and rat droppings on the floor, sleeping staff, cockroaches and an overpowering smell of drugs - so much so Mr Clarke had to leave a wing "because of the effect the drugs were having" on him.
A new governor, Paul Newton, has been put in place to oversee improvements.
Government action plan:
Move out 300 prisoners and realign court catchment areas
Bring in 32 additional staff, including a new experienced governor
Refurbish cells
Revise prisoner routines, including daily access to showers and time outside
Identify and reduce drug supply
Mental health support phone line
Increased support for those leaving prison
The most dilapidated cells are currently not being used and will be refurbished as part of the improvement plan, with cleanliness "subject to daily review".
By the end of September, prisoners who would have been sent to HMP Birmingham will instead go to HMP Hewell in Worcestershire, in order to keep numbers down.
Mr Gauke acknowledges the move is "not ideal" and "will increase pressures elsewhere" but believes it is "manageable".
Thirty-two staff have already been recruited after inspectors reported it was "often difficult to find officers, although we did find some asleep" while on shift.
"Unfortunately, the story at HMP Birmingham is a relatively familiar one," Mr Gauke wrote to Mr Clarke.
"We will take all action necessary to ensure that staff and prisoners work and live in safe and decent conditions".
The BBC has approached G4S for comment,