Court bid over Charlene Ellis and Letisha Shakespeare murders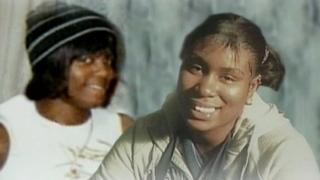 A lawyer acting for two men jailed for murdering teenage friends in a shooting has applied to have the anonymity of a key witness lifted amid "new evidence".
Charlene Ellis, 18, and friend Letisha Shakespeare, 17, were shot in Aston, Birmingham, on 2 January 2003.
Marcus Ellis and Rodrigo Simms were convicted with two others following a trial which included testimony from a man whose identity remained a secret.
The pair's lawyer said that left the defence unable to test its veracity.
Errol Robinson, whose application is to go before original trial judge Mr Justice Goldring in London on 21 September, says there are "grave doubts" over the witness's account.
He has not disclosed the nature of what he called new evidence but says it has come to light since previous legal bids to challenge the anonymity.
Mr Robinson said: "Because no one knew [the witness's] true identity, no one could test the veracity of what he was alleging."
He said it was therefore impossible to investigate whether he might have been elsewhere at the time of events he described for the prosecution, adding: "There are grave doubts about his ability to see what he claimed to have seen."
Ms Ellis and Ms Shakespeare were hit by sub-machine gun fire in a drive-by shooting outside a hair salon where they had attended a party.
They were victims, the trial heard, of a botched revenge attack by one gang on another.
In the 2005 proceedings, it was the first time in English law a main witness was granted total anonymity, even though he was a known criminal.
He was referred to throughout by the false name of Mark Brown, with only the judge and prosecution knowing his real identity.
The Crown Prosecution Service had said witnesses were not prepared to give evidence without protection but defence teams argued it was unfair.
In 2012, Ellis - Charlene's half-brother - along with Simms and a third man, Nathan Martin, lost an appeal against their convictions.
The application complained the decision to grant "Mr Brown" anonymity and the admission of his oral evidence had breached their right to a fair trial, including the right to examine a witness against them.
The European Court of Human Rights dismissed the complaints.
Ellis, Simms, Martin and a fourth man, Michael Gregory, were convicted of the teenagers' murder and each jailed for life.